What is a stretch ceiling?
Stretch ceilings are fixed on a special profile (aluminum or plastic) under the main ceiling in the room. Depending on the material of the canvas, such ceilings are classified into two groups - vinyl (PVC) and textile, and by the method of manufacture - welded and seamless.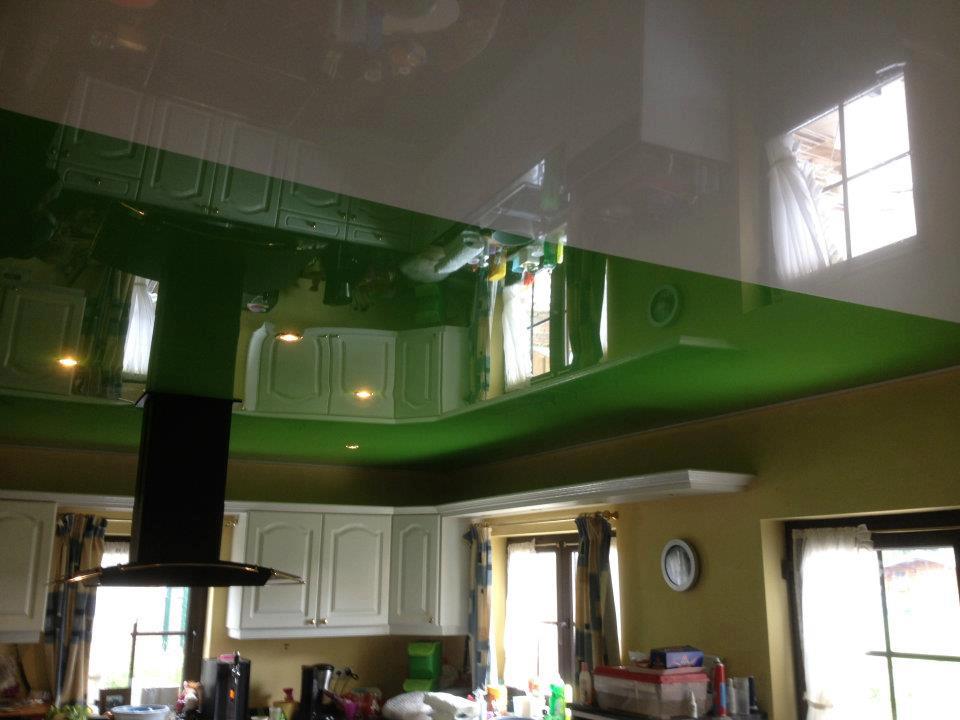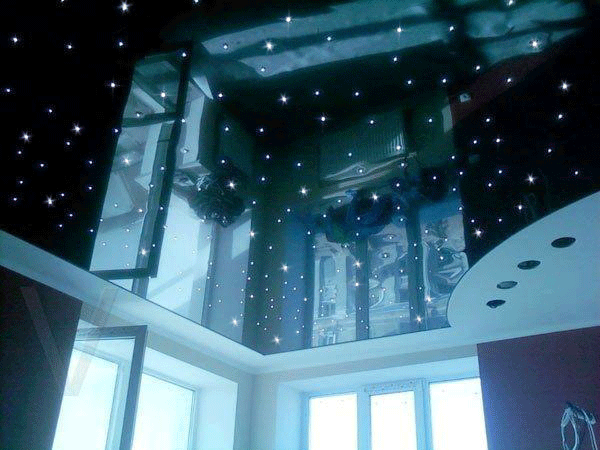 Types of stretch ceilings
The ceilings can be one- and two-level, but the variety is achieved mainly due to surface texture.
Traditional textures and design are:
Matte, imitating high-quality plaster;
Glossy (Lacquer) visually enlarging the space;
Satin (semiglossy), creating the impression of a painted drywall.
Translucent , Light ceilings
Ceiling Large Lamps, Large lights solutions
Light Windows , Lights solutions
Starry Sky ceiling ( Star night )
3D Ceilings , different 3 dimension shapes
Floating ceiling , with perimeter lights
Acoustic ceilings , good for cinemas, auditorium
Perforated ceilings, creative new technologies ceilings
Exclusive textures are made to imitate marble, wood, suede, leather, velvet. Fans of technological solutions can choose for the interior decoration of ceilings Hi-Tech and Metallic. To create an exclusive design rooms use onix or marble ceilings, which have a transparent texture with a high light scattering coefficient. This technology allows you to place special lights inside the ceiling structure. Especially popular are stretch PVC films with the effect of the starry sky, which make it possible to make any interior unique and romantic. Art-technologies and photo printing on stretch ceilings allow realizing any design idea.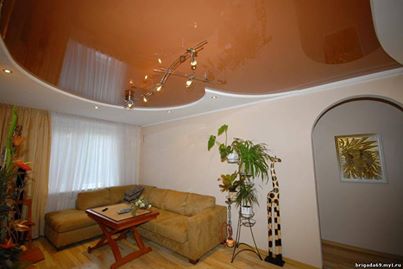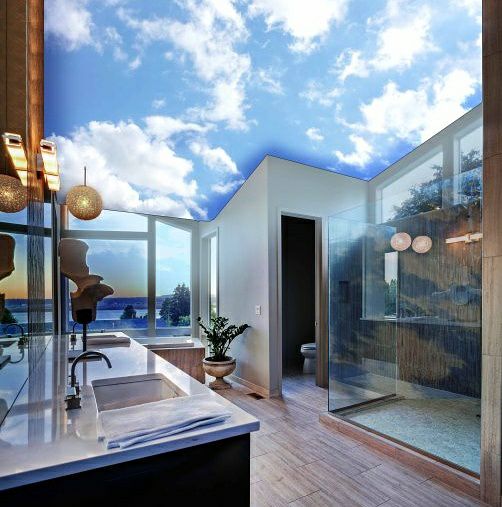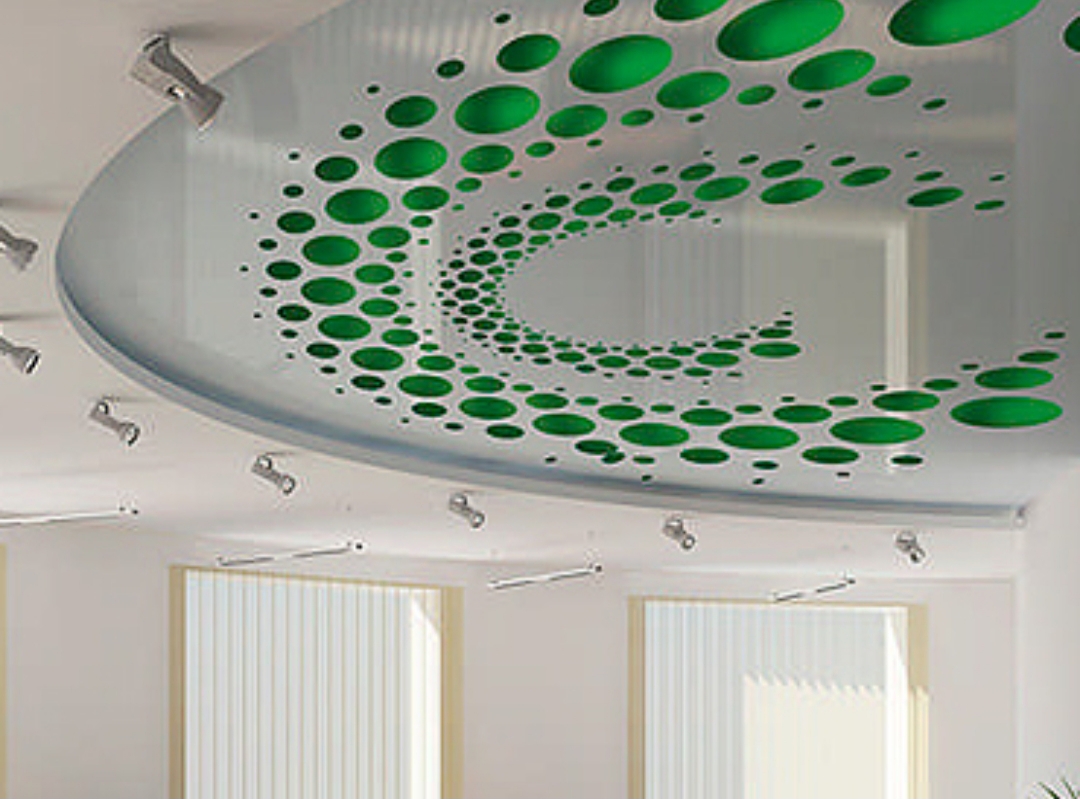 The seamless tension ceilings have many advantages. Multilevel structures make it possible to divide space into functional zones, hide delays and defects in the ceiling, and engineering communications. The form can be both classical, and include various bends, geometric and curvilinear forms. There are also special series of stretch ceilings. Perforated sheets provide excellent ventilation; acoustic series are designed for specialized premises. For use in medical and children's institutions, collections of films with antiseptic properties are produced.
Aesthetic look and beauty. Perfectly smooth, smooth and impeccably clean ceiling for many years.
Easy care. The cloth repels dust and dirt, is resistant to moisture.
Quick assembly / dismantling of the structure. Professionals have only a few hours to install or change the stretch ceiling. Lack of construction debris.
The cloth does not pass moisture and can withstand up to 100 liters of water.
hides any defects, communications and disadvantages of ceiling slabs;
if desired, the client reduces the height of the room;
provides reliable waterproofing;
in case of flooding it can withstand up to 100 liters of water per square meter. Such a volume of water, if it is not very hot, can last 3-4 days on the ceiling, if the water is cold - up to 7-8 days. In such cases, urgently call us at the office, we will send the maintenance team, which will merge the water and bring the material in order, so that it will not lose its aesthetic properties and will look like new!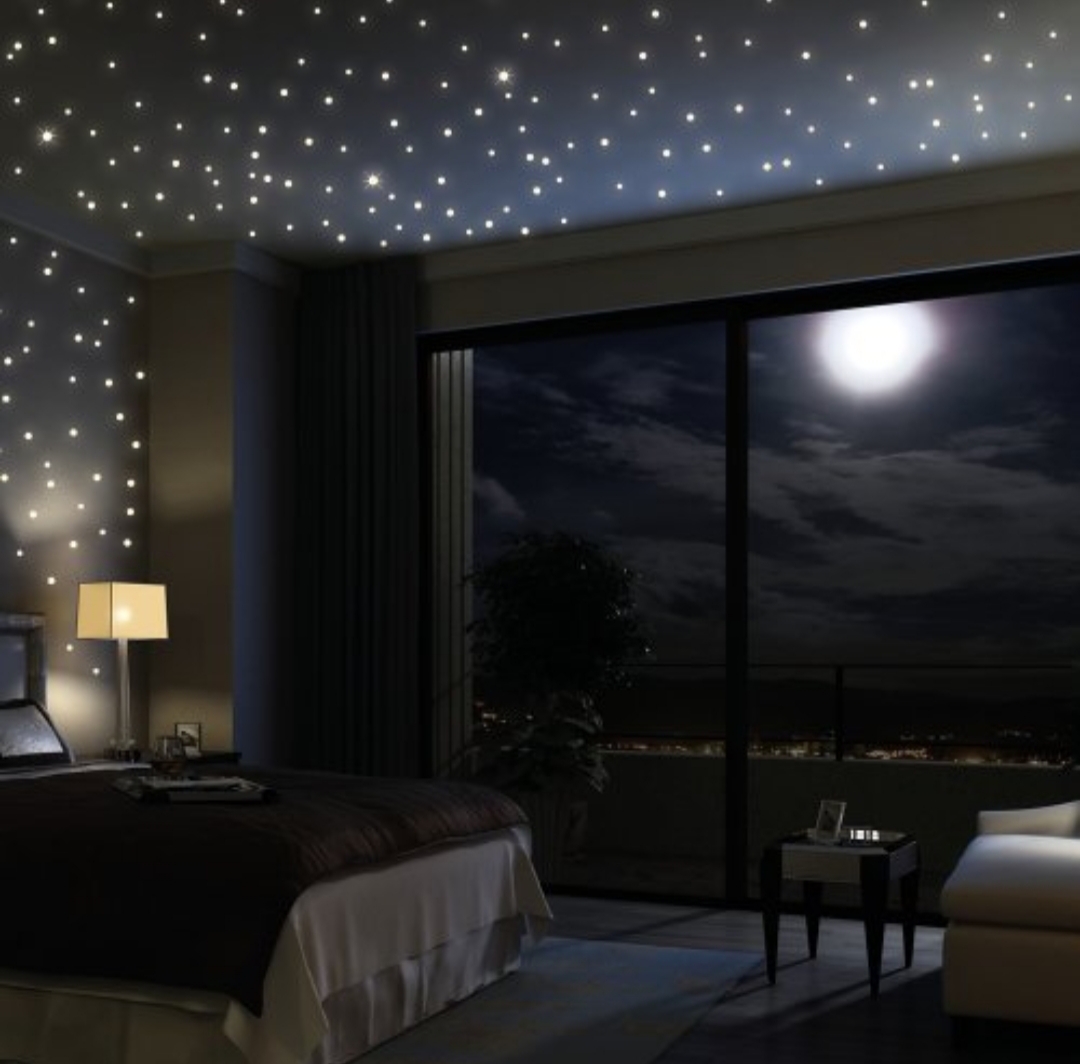 Environmental safety.
All materials are accompanied by mandatory quality certificates. The use of European films and textiles is allowed even in children's and medical institutions.
Exceptional durability. Materials easily withstand high loads and are characterized by maximum wear resistance.
Fire and moisture resistance. Installed on stretch ceilings, the price is fully justified by the ability of materials to withstand fires and direct exposure to moisture. There are no risks in the process of operation.
All PVC films and fabrics from the assortment on our website are delivered directly from Germany, Belgium and France. Close cooperation with suppliers allows us to reduce costs for our customers without sacrificing quality.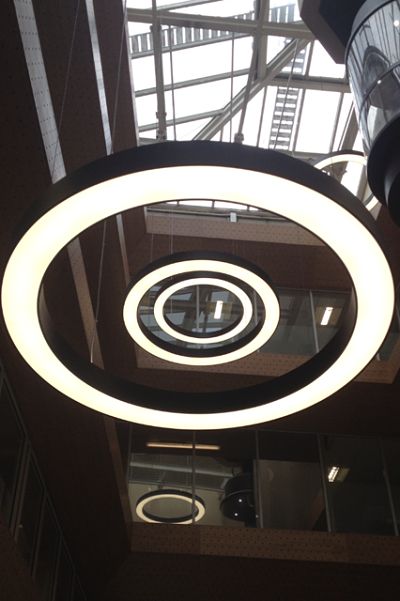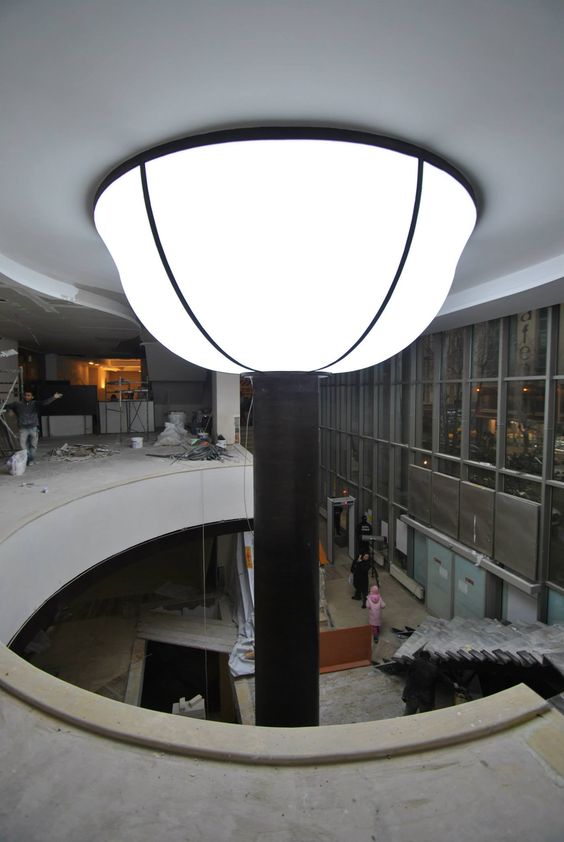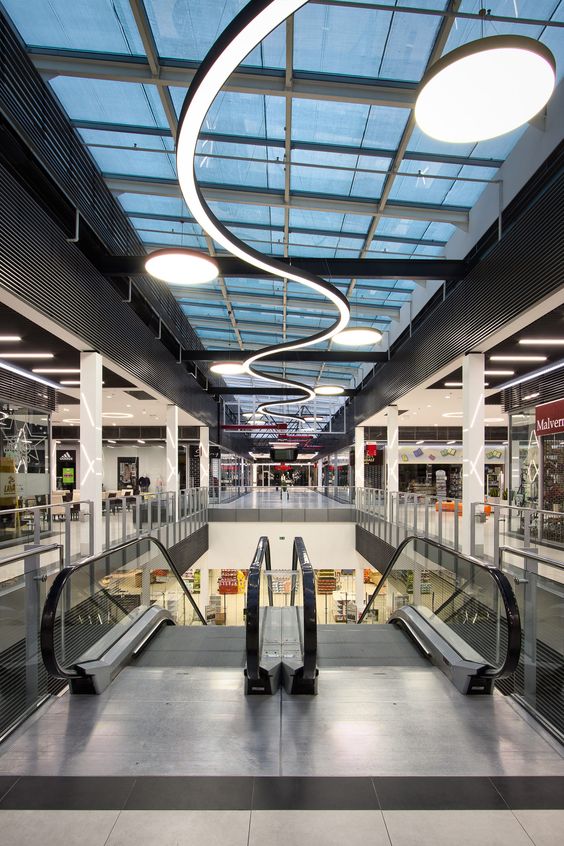 Application of Stretch Ceiling :
Matt - most often used to create a strong style, in any, especially administrative premises. Creates the effect of an ideal plaster;
Satin - makes an element of coziness and warmth, creates the effect of an ideally painted dye. It is used for editing in apartments and offices, banks and medical institutions;
Glossy (Lacquered ) - visually increases the volume of the room, creates a mirror-like surface effect, well combined in a combination with gypsum board designs. Has its own rich color palette and stylish design. Light glossy ceilings will look good in small or low-shelled rooms, in the bedroom , kitchen, bathroom and toilet. Dark and other tones are relevant in libraries, bedroom, banks, hotels, restorans, nightclubs;
Translucent (Semitransparent )- transmits light to the film, visually expands the space, creates the effect of matt glass. Exactly looks in the home, bedroom or children's room. With the correct placement of the light guide behind the tension cap, an illusion of the window in the lining is created. In this case, it is recommended for rooms with high ceilings, tk. for the effectiveness of light scattering it is necessary to install it 30-40 cm below the base. This option is well looked for salons and galleries, hotels and restorans, tourist and entertainment centers, offices and shops, shopping centre , pharmacy ;
Metallic - is used to add expressiveness to the stylish interior of the room. Stretch metal bottles are relevant for those who like non-standard technology solutions such as Hi-Tech. Are appropriate in youth entertainment centers, pab and nightclubs;
Mother-of-pearl - creates the effect of transfusions of shanks, allows to emphasize the thin individuality of design elements. Like Metallic, is a rather specific option for floor covering, requires a special interior. Has a fairly high price indicators. Orders for his production do not come in part;
Art print on stretch ceilings - this is the application of any artistic image on the ceiling with a large format printer. It is made on matt, satin, glossy and translucent materials. Good looking in living room, office, bedroom, children's room and bathroom;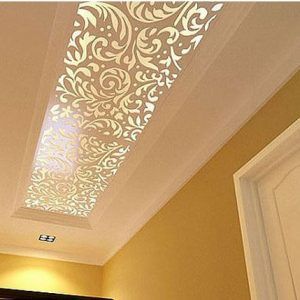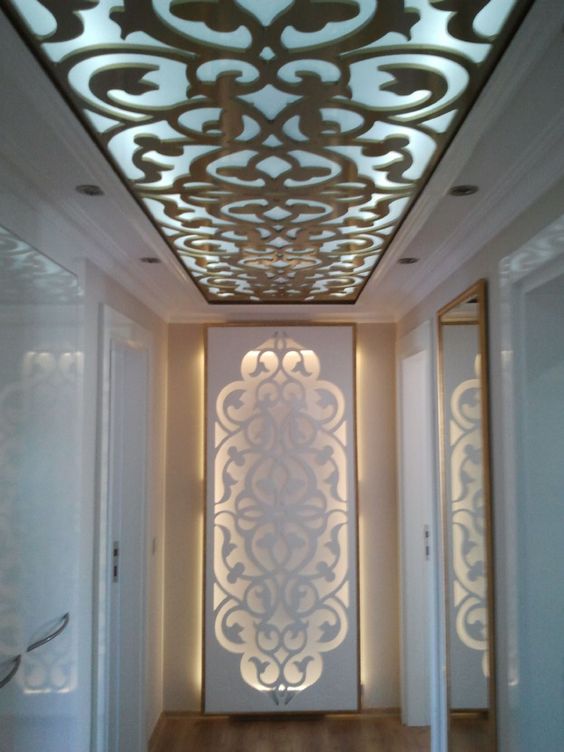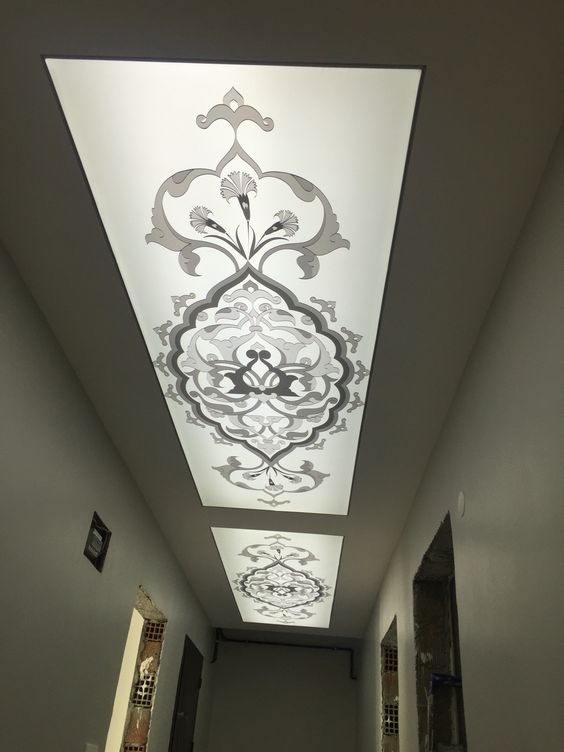 Stretch ceilings "Starry sky" - represent a collection of a structure, assembled over a stretch ceiling, which, as a rule, is made of light projector and optic light . The effect of flicker and color transfusion is achieved by using different light filters in the light source. And the use of the "Starry Sky" crystals in the stretch ceilings "Swarovski" allows scattering light on clear faceted drawings, giving the bottle an unbelievable color and originality. Optical system "Starry Sky" is mounted on satin and glossy PVC films. Remarkably looks in living room, bedroom or children's, room, bath room, pool or nightclub.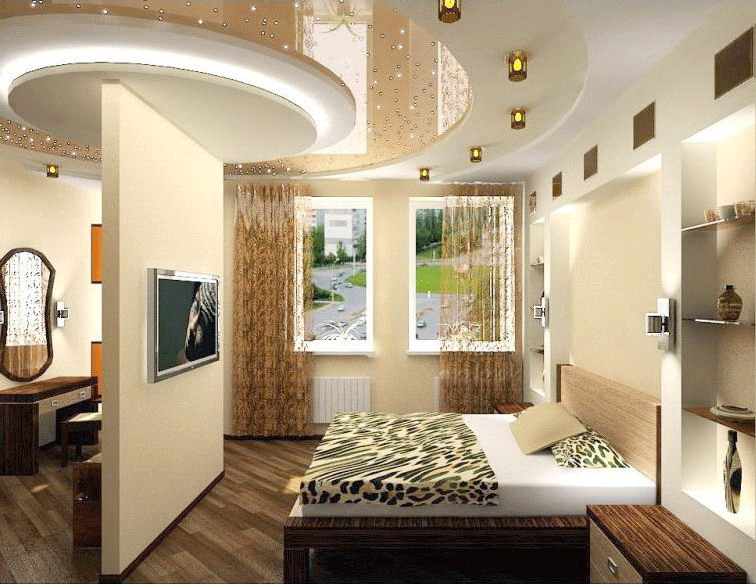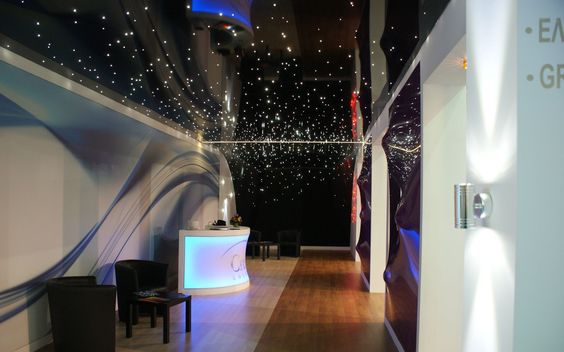 Material .The stretch ceiling can be made of PVC film or fabric. Film ceilings are cheaper, have less strength and are afraid of negative temperatures. However, they have one big advantage over the fabric - water resistance. Many people are familiar with the annoying situation, when the newly whitewashed ceiling is colored with yellowish divorces due to neighbors from the top, who arranged another flood. Some people have such "luck" for life. Film tension ceiling not only successfully withstand the weight of spilled water, it can be pulled again and forget about the misunderstanding. Fabric stretch ceilings are resistant to cold weather, they are difficult to pierce with a sharp object. If desired, the fabric can be painted with acrylic paint.
Texture. PVC canvas can have a matte, glossy or satin surface. Matt ceilings - a quiet classic option, suitable for any areas and interiors. Glossy stretch ceiling advantageously fit into a minimalist interior or interior in high-tech style, visually expanding the area of ​​the room. Satin texture - a compromise between matte and glossy: reflections in the ceiling are unobtrusive, blurred, give the interior a special tranquility, and the light from chandeliers is scattered, has no pronounced pattern. Satin texture is suitable for spacious rooms. Fabric fabrics are produced only in a matte version.
Presence of seams. The seam on the ceiling canvas is a weak link in the structure. It is especially visible on a glossy surface. If the width of the canvas is not enough to create a seamless stretch ceiling, you can combine canvases of different colors to make the seam visually beaten, or make a multi-level ceiling, in different areas of which will be used solid sheets. The problem of creating a seamless ceiling is less likely to arise when choosing a fabric web, the width of which is 5 m or more, which allows covering large areas. The film for ceilings is more often produced in width from 1,5 to 3,2 m, however recently there are canvases with a width of 5,6 m.
Color solutions. White or ivory, blue, pink or even black - you just need to choose a color. If desired, in one ceiling, you can combine several colors or even order photo printing. Pastel colors are usually chosen for the living room and bedroom, with more vibrant you can experiment in the nursery or in the kitchen, a large spectacular drawing will be interesting to look in the hall or hallway, in the bathroom.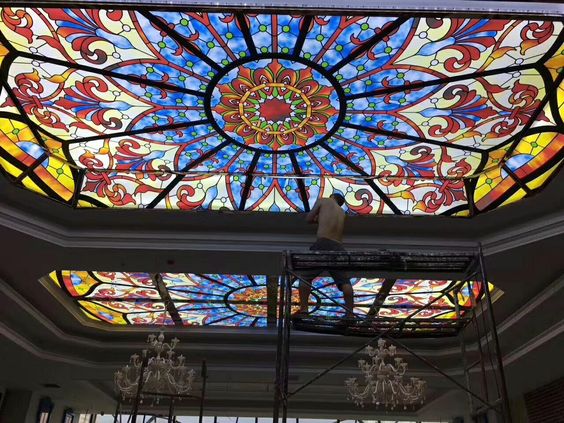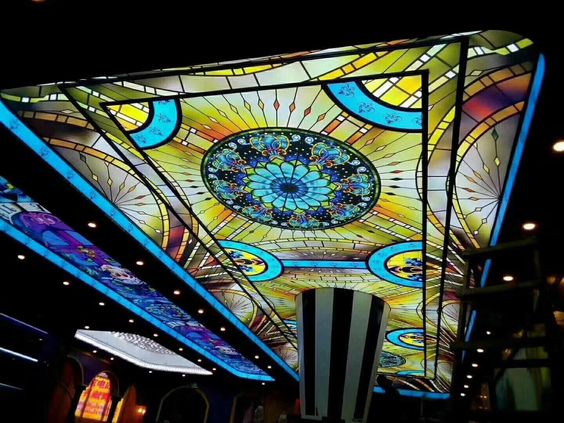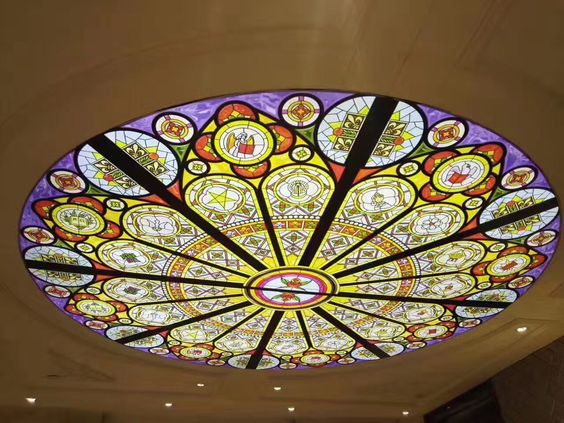 How to install a stretch ceiling ? This is often question asked in our company . Here we share with you installation steps
The success of our company is determined by the availability of our own production, high quality standards and the use of components only from trusted manufacturers. Thanks to this installation of any ceiling, we will conduct quickly and with technology. Any of our services are covered by the company's guarantee, as we are sure of the accuracy of our actions.
Complete information on installation of stretch ceiling you will find on our installation page!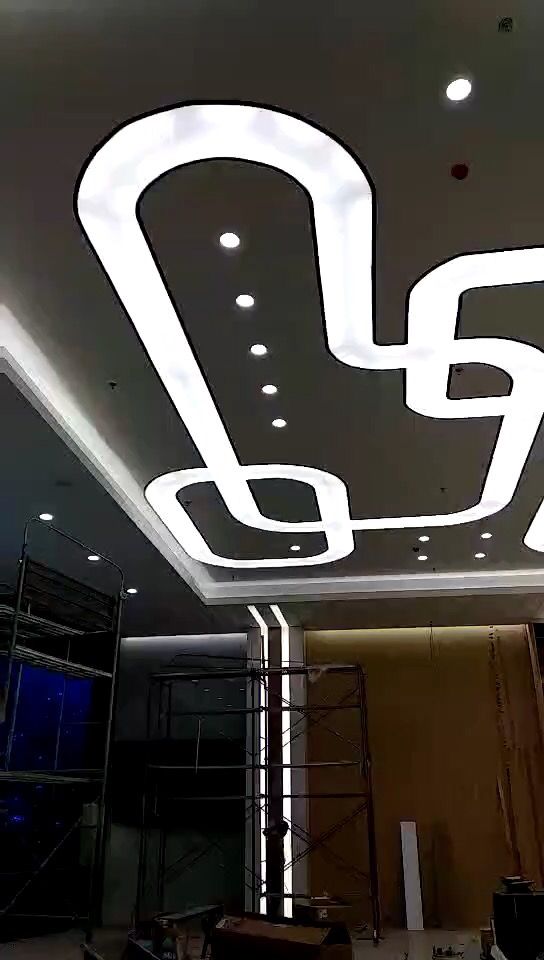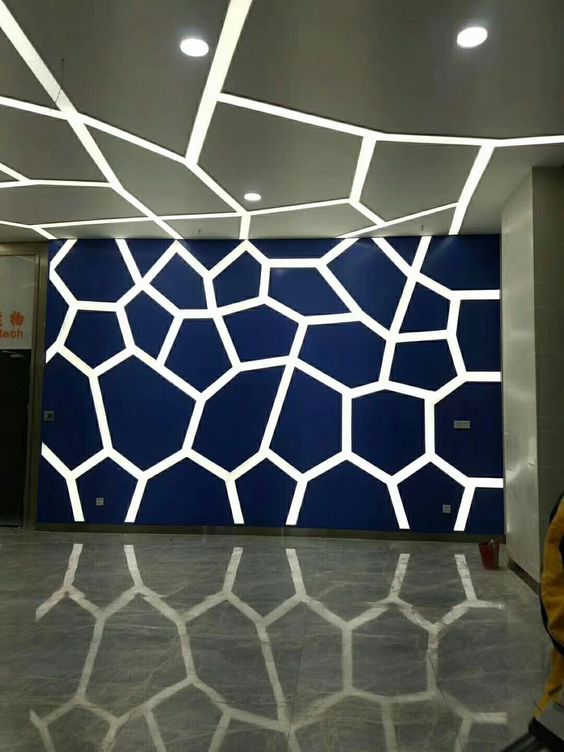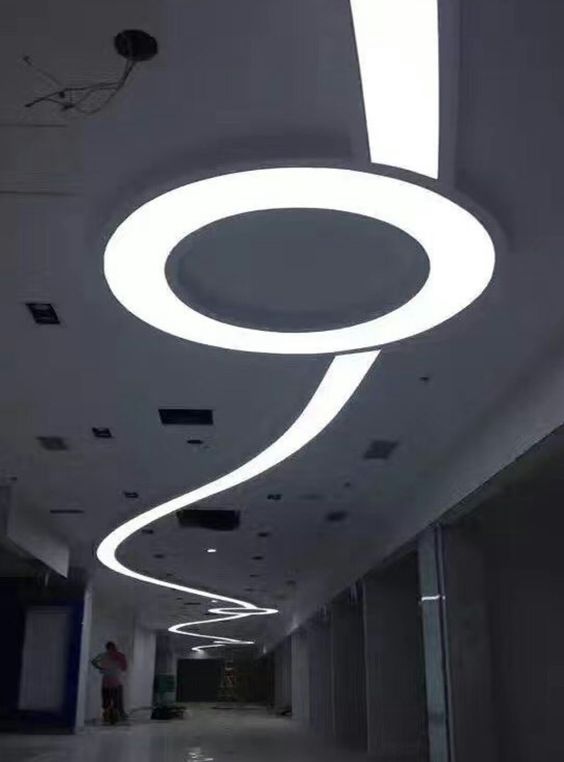 Installation of a false ceiling consists of several stages:
Preparation of the room. At this stage, everything that can be damaged during work, including fragile and valuable equipment, glass objects, pictures and photos from the walls, is removed from the room. We also recommend removing animals.
Access to the walls. This must be done around the perimeter of the room. In addition, all the furniture should be moved away from the walls at a distance of not less than one meter. If the wardrobe or other furniture cannot be moved, then it is possible to remove the mezzanine or the upper storey from it: for the performance of work, this is enough.
Direct mounting. This stage takes about half an hour. Installers first attach a baguette to the wall, and then to its corners - a stretch ceiling. To smoothly stretch it to the entire area of ​​the room, the canvas needs to be heated to 60 degrees. For this, a safe gas heater is used, the use of which excludes any possibility of explosion or fire. After heating, the web becomes elastic and easily stretches. If you are worried about the use of heating equipment in the apartment, then we hurry to warn you that only the stretch ceiling itself is exposed to high temperatures. The room temperature will not rise above 40 degrees, which is safe for furniture and interior.
When the web tension is finished and the material is cool, it is possible to cut out the holes necessary for the installation of luminaires, ventilation grids, power lines and other communications. We ask you to visit the installers to buy and prepare lighting, gauges and decorative elements for installation.
At the final stage, the traces of mounting, handprints are removed from the ceiling. Wizard-installers, if possible, will remove dust and packaging from the materials. After that, the customer can take work. If there is no claim to quality, an acceptance certificate is signed. The calculation for the work is taken after the signing of the act.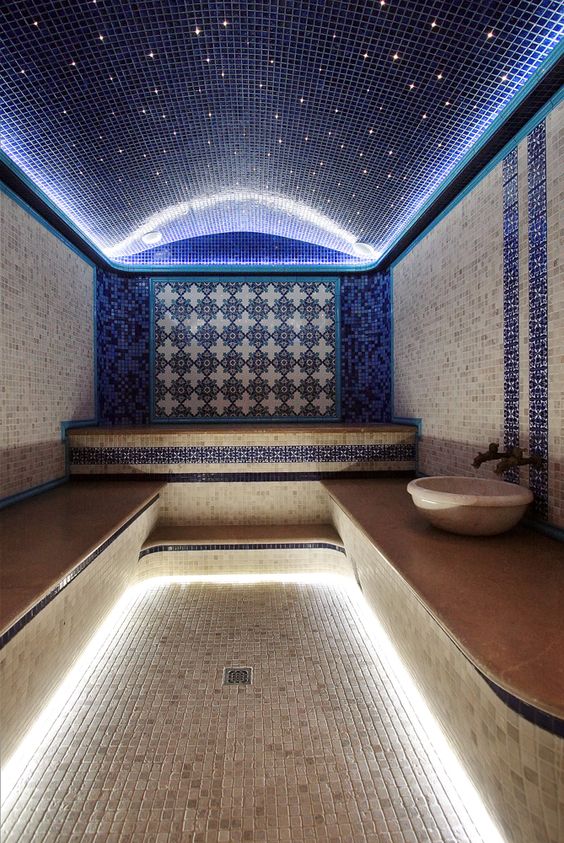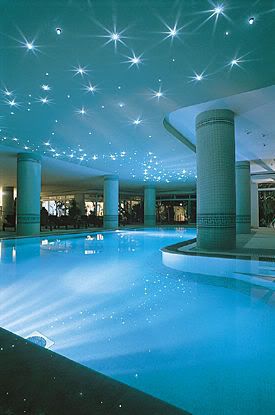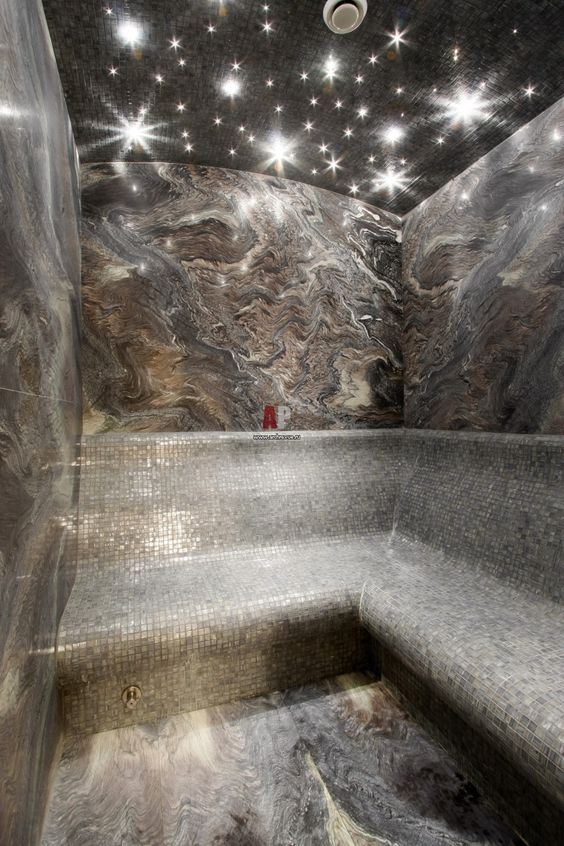 Looking for stretch ceilings inexpensively, but with a guarantee of quality? So, you found them.
There are many offers on the stretch ceiling market today. However, how to find a reliable installer company to avoid problems with the ceiling in the future? The answer is simple: pay attention to the quality of components and the paintings themselves, the warranty provided. The company "IMPERIAL CEILINGS" offers all this to you: we professionally install a variety of stretch ceilings; prices are now as low as possible.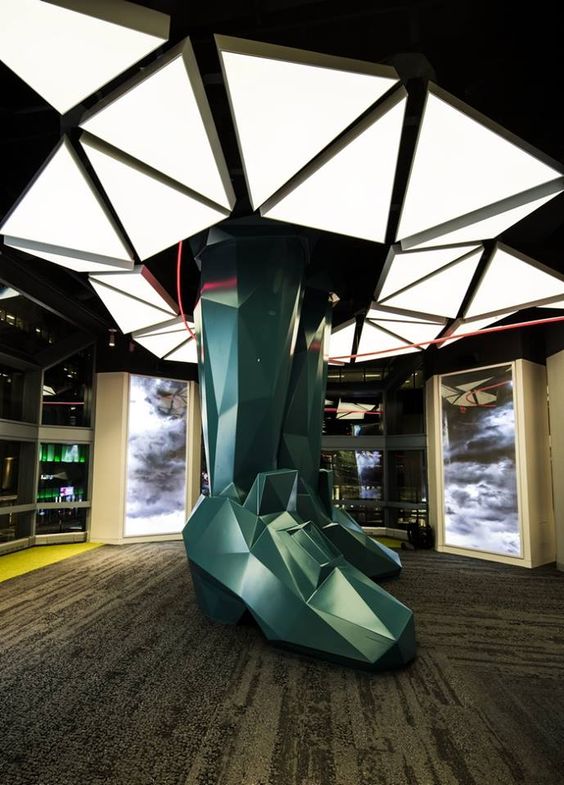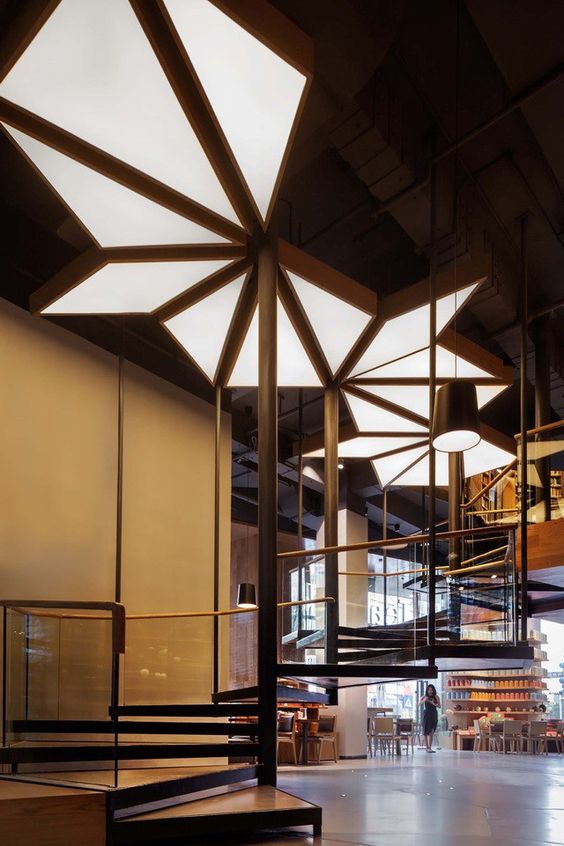 Stretch Ceiling Specification.
Characteristics of PVC stretch ceilings:
The chemical composition is polyvinyl chloride.
The class of the canvas for fire safety and ecological compatibility is M1.
The weight of the linen is 180 ... 300 g / m2.
The film thickness is 0.17 ... 0.25 mm.
The sound absorption coefficient is 0.4.
Moisture resistance - 100%.
The limiting elongation is 200 ... 220%.
Coefficient of light absorption: matte surface (texture) - 95%, glossy surfaces - light colors up to 50%, black colors - up to 15%.
Operating temperature range: + 5 ... 50 ° С.
High strength: withstands a pressure of more than 1 kPa and a voltage of 100kg / m².
Non-toxic material.
Does not absorb the smells.
Biostable to the occurrence of mould and fungi.
All film ceilings have seams every 130-200 cm.
Stretch ceilings characteristics are different: lacquered glossy stretch without a seam by almost 200 cm, and matte - by 230 cm.
During installation, the film is heated to 70 degrees with gas guns, from which the film softens. Now it can be stretched to an already mounted profile.
PVC ceilings win a wealth of colors (more than 120) and textures: gloss, matte, satin, suede and others.
Glossy have a mirror ratio of 90%, which visually doubles the ceiling and expands the space by reflecting objects, while creating a magical play of light from lamps and chandeliers. On the gloss, the seam is slightly noticeable.
Note! Dark color ceilings has a greater mirror image reflection than light colors.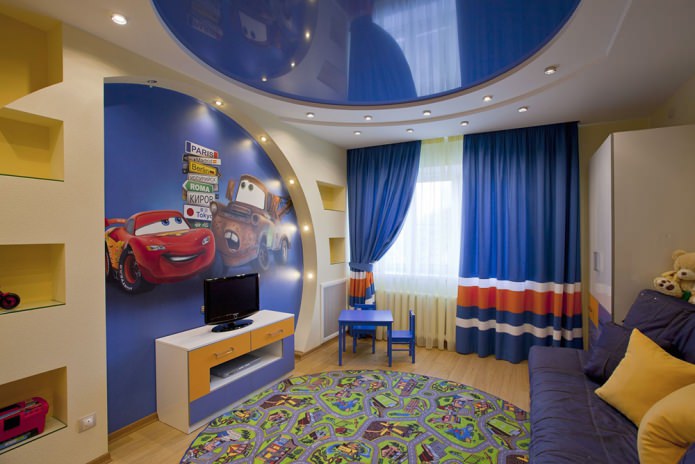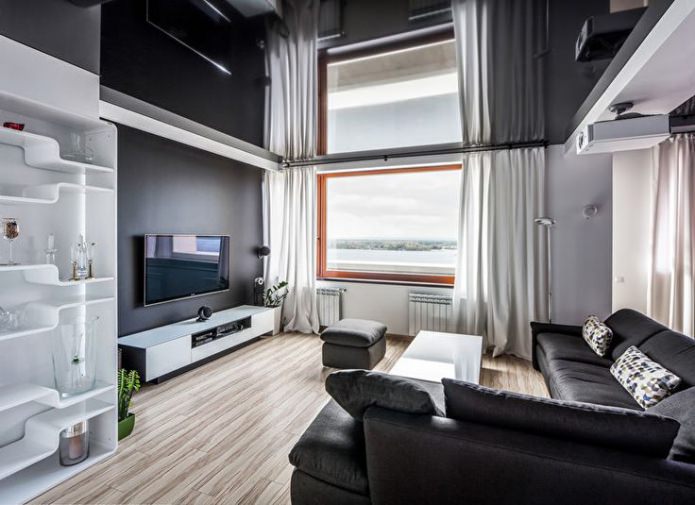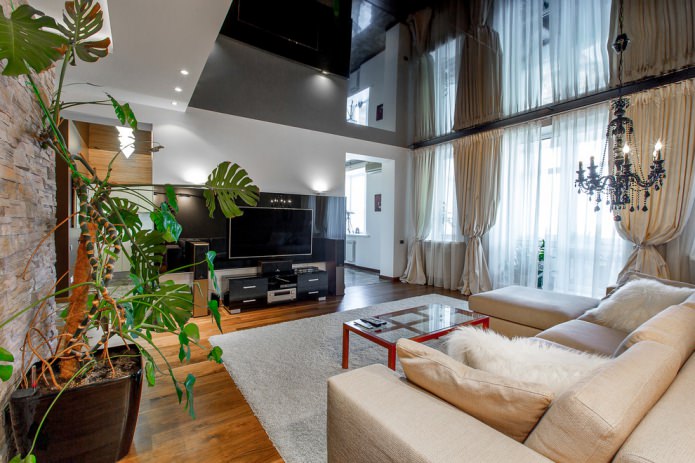 Semigloss (satin) : subjects are reflected unobtrusively, less distinctly.
Stretch metallic ceilings are also made of PVC and are characterized by specific overflows with a diffused mirror effect.
Presentable mother-of-pearl stretch ceiling is always presented only in a one-color version. Elegant, refined, he reflects the light with rays, overflows.
Satin ceiling is similar to matte, but its relief is smooth, which enhances the reflective properties of the film, giving a dazzling white color.
Matt canvas (10 different shades) - the traditional version: without glare and glare, which gives a perfectly smooth flat surface. It is matt ceilings that are suitable for applying additional drawings.
Advice! In very high rooms, PVC stretch ceiling can lower the ceiling and save on cooling the room.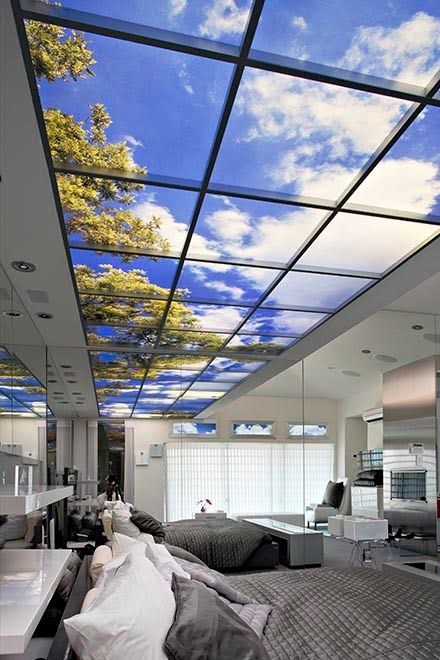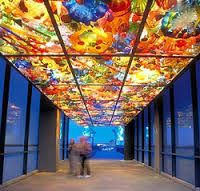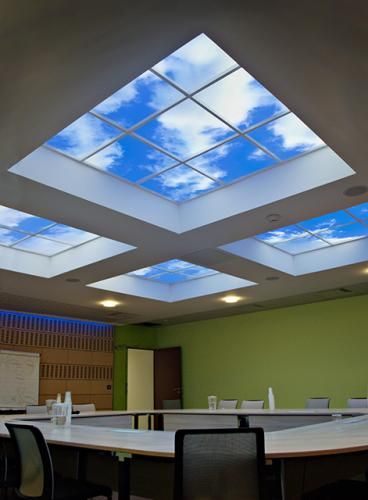 Stretch Ceiling company in Dubai UAE .
We only one company who manufacturing Stretch Ceiling from Germany materials in UAE.
At the core are only high-quality materials with excellent aesthetic and performance characteristics. European materials favourably differ from analogues of other country production.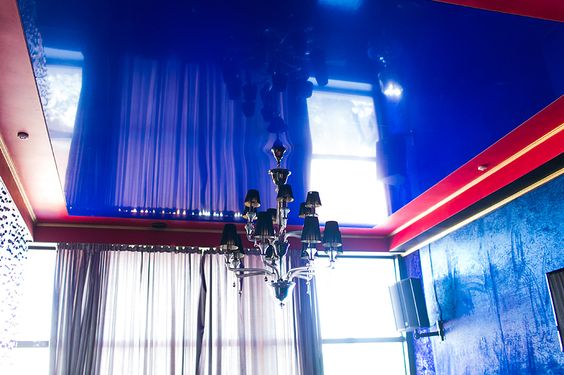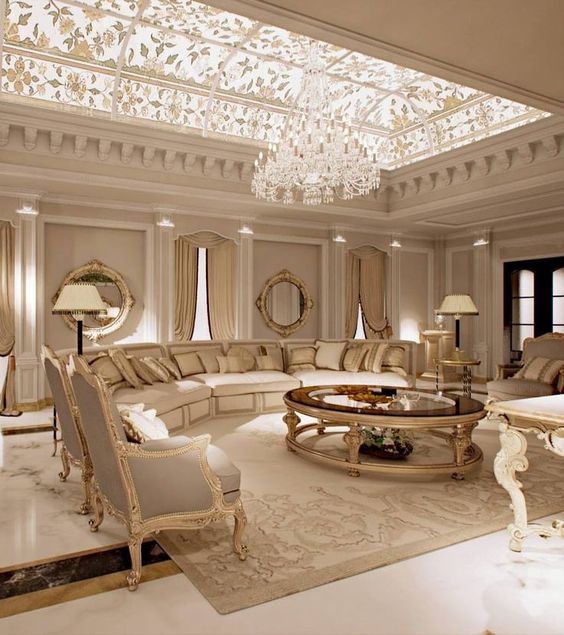 Stretch Ceiling Where to buy?
Still do not know where to buy stretch ceilings in Dubai or UAE?
CONTACT US NOW for introduction meeting and order ceilings of any complexity on a turn-key basis for a unique project even cheaper!
An individual offer that you will like.
By providing installation services, we strive to offer a qualitatively new level of service and 100% guarantee of the result that will suit you. With us you get advantages:
When installing ceilings, special composite cylinders are used. Technology is safe and does not pose a threat to you.
We have powerful industrial vacuum cleaners. Do not waste time cleaning after installation. After the installation, there is not the slightest contamination.
All ceilings are designed for repeated dismantling. We work on harpoon mounting technology and install it on an aluminum frame. If you move to a new apartment - just dismantle the ceiling and take it with you!
The ceilings established by the specialists of our company are accompanied by a long exclusive guarantee of 3 years. In this case, the warranty period for the canvas is 10 years.
A full range of services is offered to customers without additional payment. Take advantage of professional measurements with personal consultation and order an individual design project for free.
We care about your budget. Watch for regular promotions and discounts to take products much cheaper.
A constant flow of orders and wholesale supplies help to reduce costs.
You can order a standard or unique design. Designers and installers create elite floating ceilings and other exclusive ideas without restrictions.
Your comfort is our priority. Gauges always meet the client. You choose the convenient time for your departure when providing services to the company on weekends and holidays.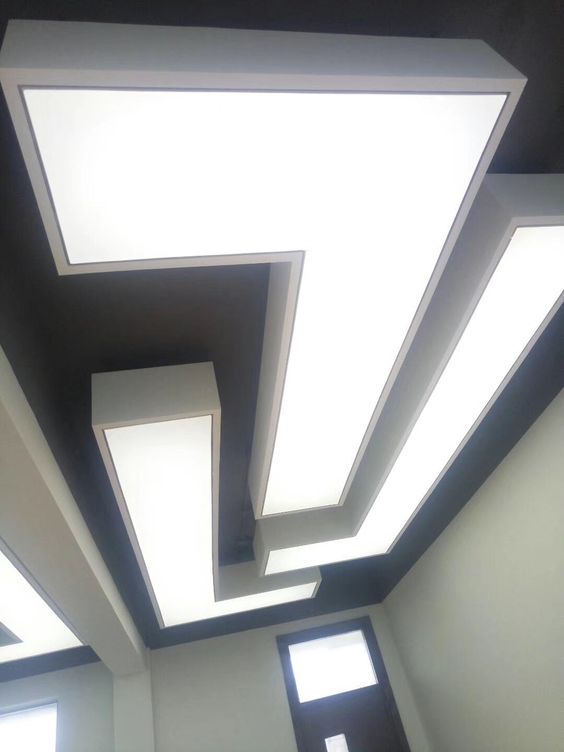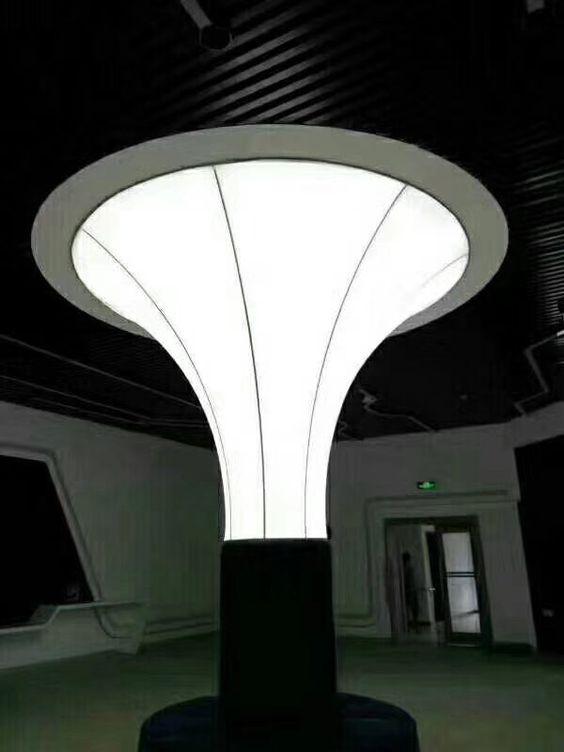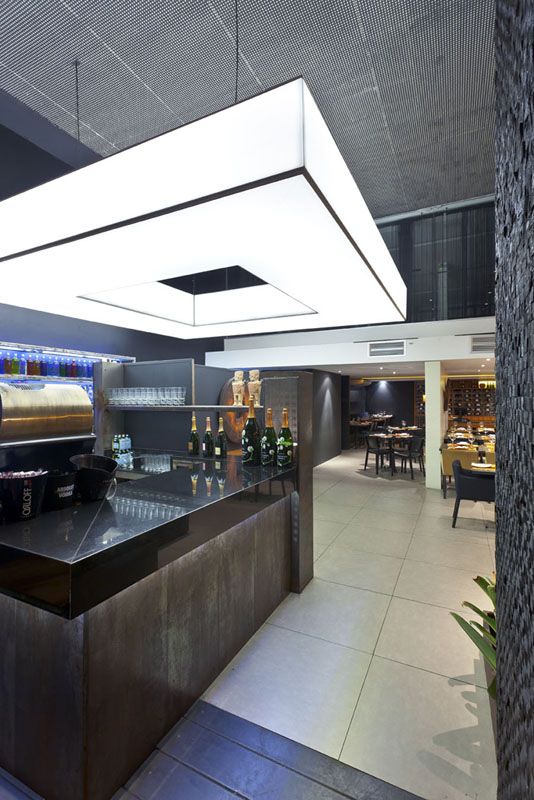 For more information about stretch ceiling price visit our price page by clicking the link above .
Visit Our Stretch Ceiling pictures Gallery Below