Light boxes, or light walls - one of the most famous types of outdoor advertising, which has become an integral part of the landscape of big cities. In the evening, it is the luminous information stands and signs on the facades of buildings that create the unique atmosphere of the night city. However, the main task of this type of outdoor advertising is to increase the attractiveness, recognition and popularity of a company, brand or product. And judging by the demand for these structures, they successfully cope with their goals.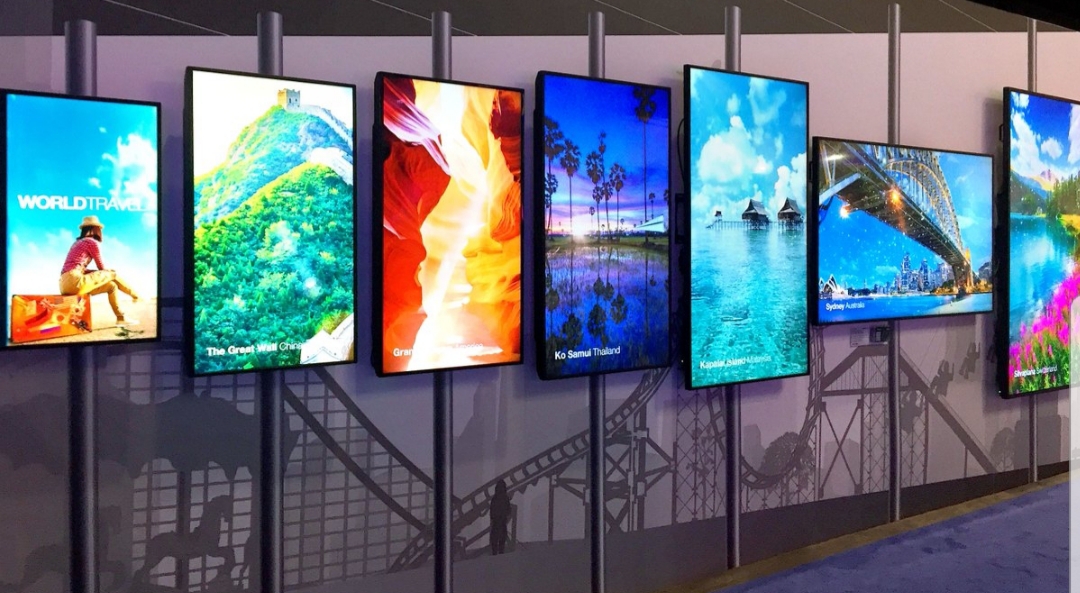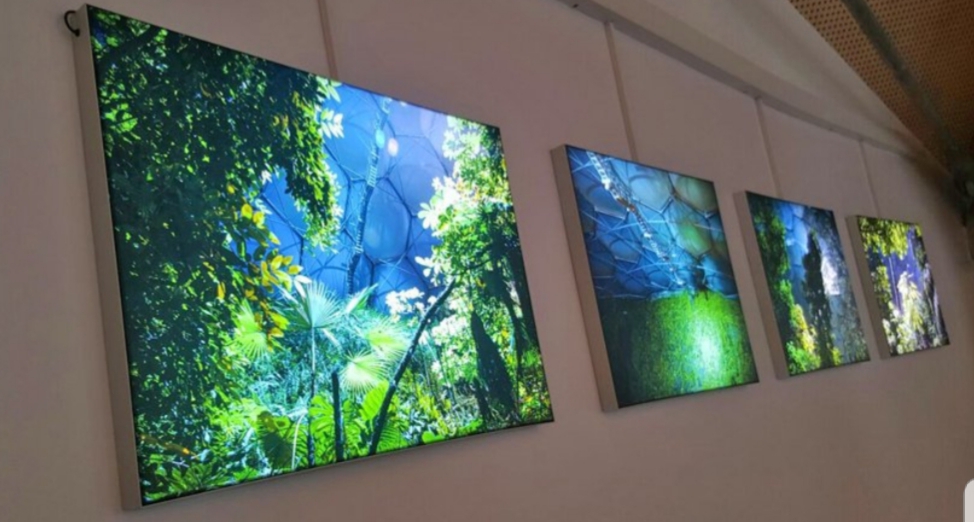 Most often, light boxes are used by shops, cafes, cinemas and other shopping and entertainment venues. Light boxes are no less popular among producers of consumer goods, city authorities, film distribution companies. On the features, varieties, pros and cons of these advertising structures we will discuss in this article.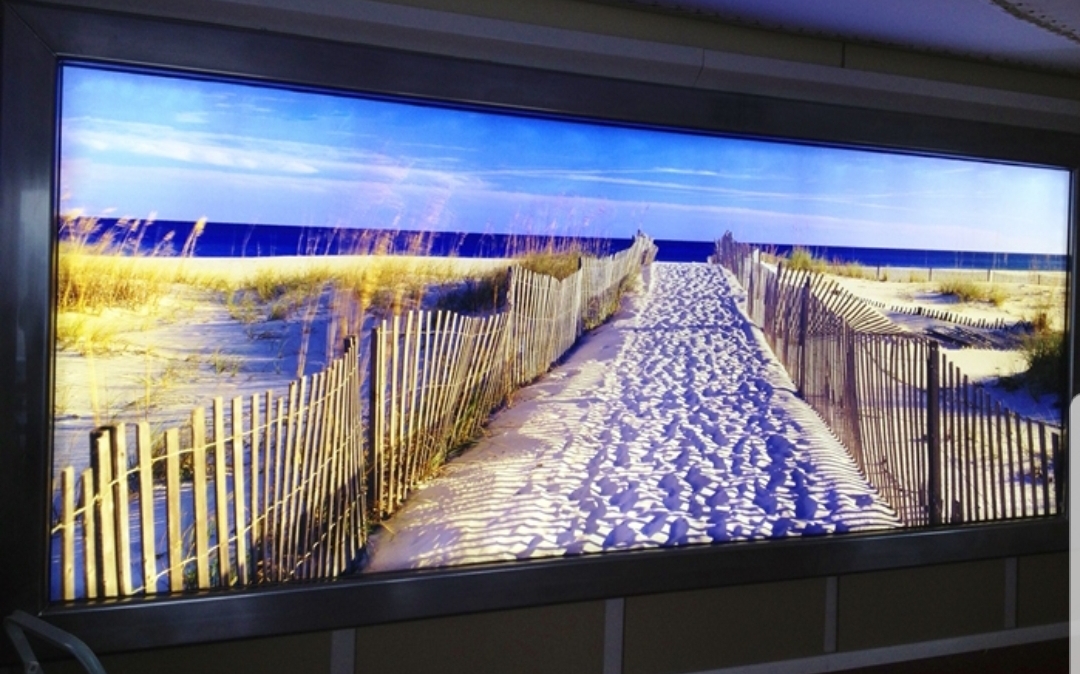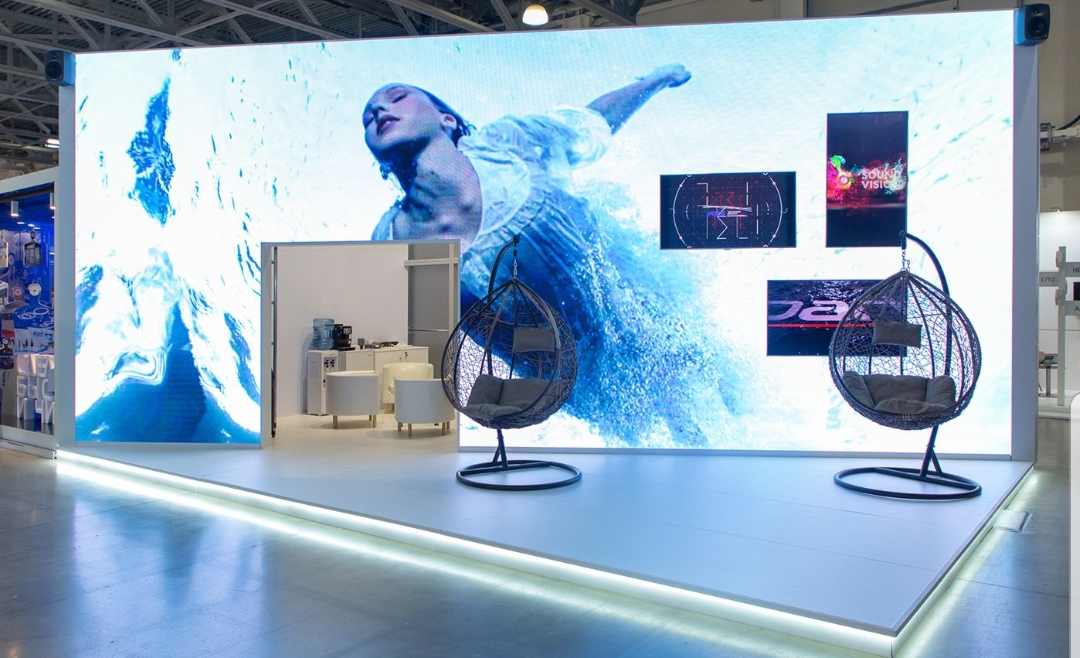 Light boxes: advantages and disadvantages
The light box design is usually a sealed metal box with a light-transmitting front panel illuminated from the inside. It is thanks to the lighting that light boxes look so impressive and attractive on the roofs and facades of shopping and business centers, shops and cinemas. However, the scope of use of light boxes does not end there: they can be seen on the streets along the roads and highways, in subways, in the subway, at bus stops, train stations, airports, etc. Numerous road signs, street names and house numbers are also light boxes.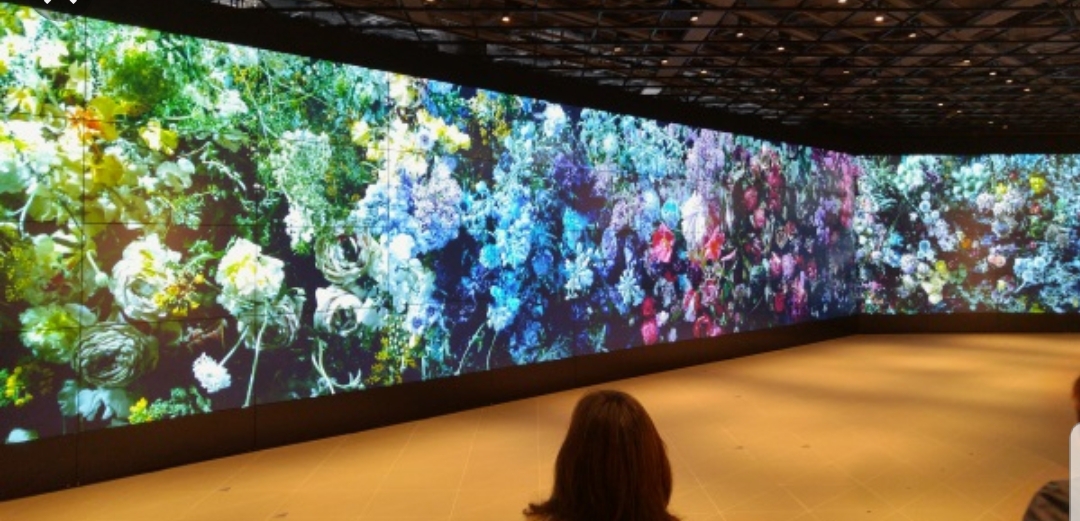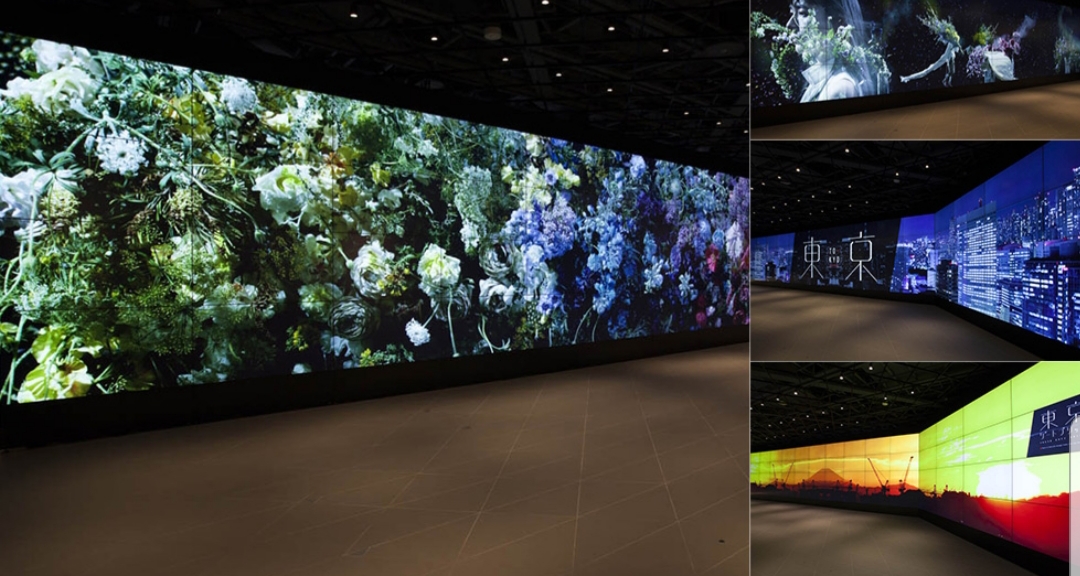 Illuminated advertising structures have a number of significant advantages over other types of outdoor advertising. First of all, their cost is relatively low, despite the fact that the light box can be used repeatedly by changing the front panel or only the image on it. In addition, light boxes are made quickly and can be of various shapes (not necessarily rectangular). The unusual design of the sign will help to pay much more attention to it. Among the disadvantages of light boxes is the fact that internal lamps can sometimes burn out, that is, they must be periodically changed. In addition, in the boxes with time accumulates dirt, which becomes visible in the light. The rest of the light box is extremely practical, profitable and effective advertising tool.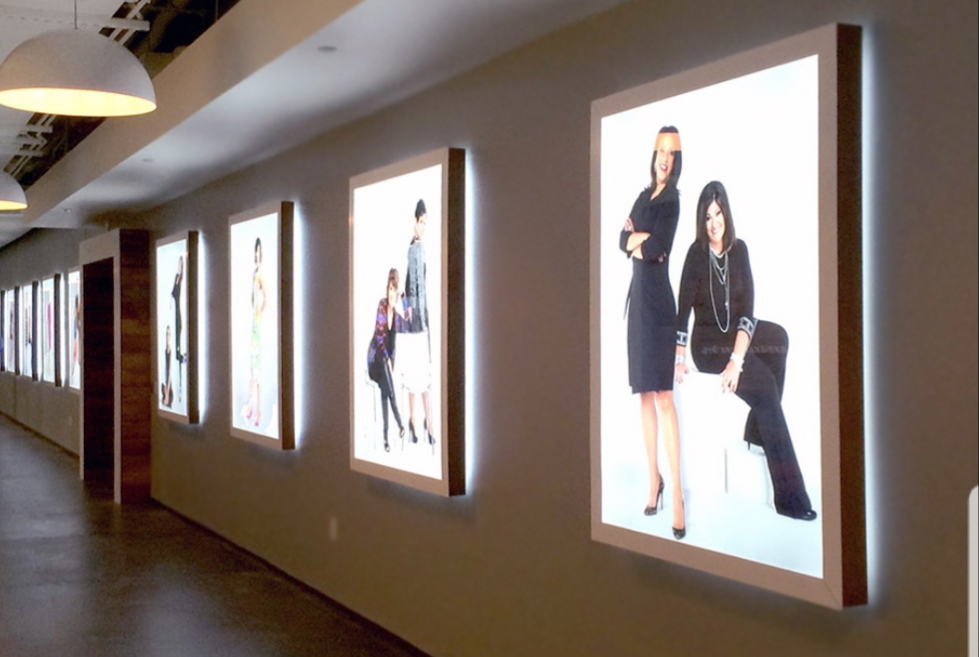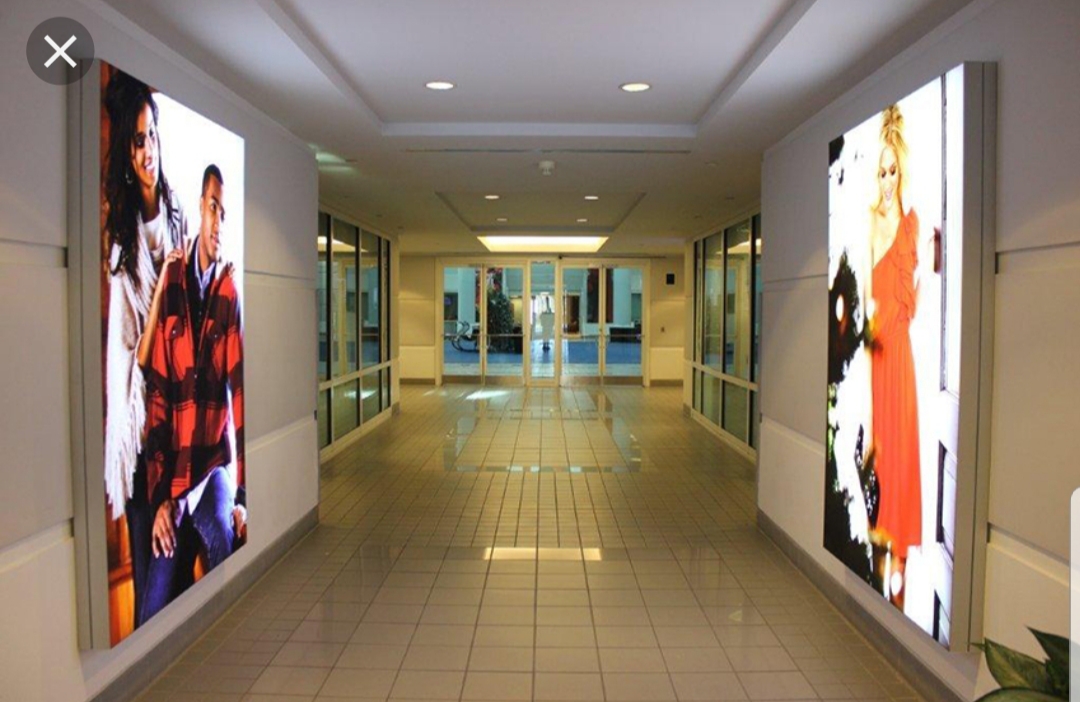 Light box Types
The newest trends in the manufacture of light boxes relate primarily to the materials and forms used. For example, figured boxes are in demand, as well as signs using modern materials - dibond and alucobond, which we will discuss below. Rotating advertising constructions, which attract the most attention of passers-by, are also gaining great popularity. Below we look at the most famous classic and newest types of light boxes.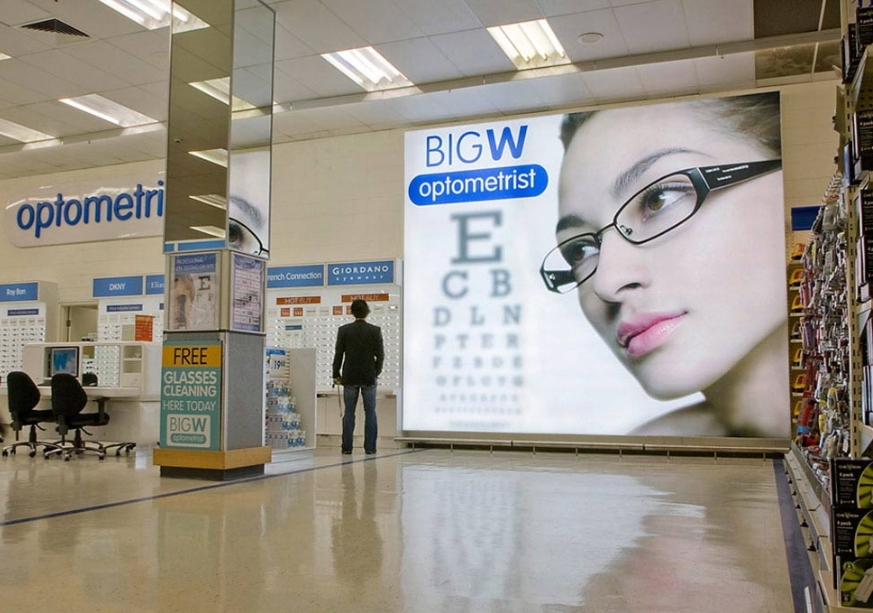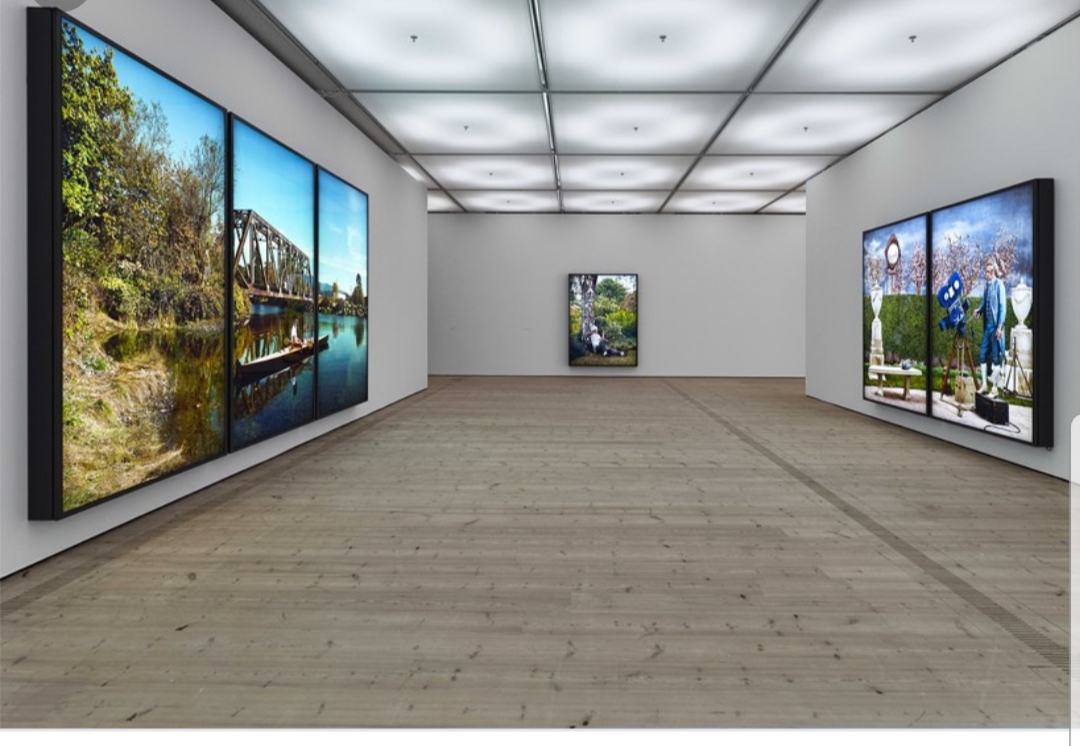 One-sided and two-sided
First of all, light boxes may have one or two advertising surfaces. In one-sided boxes, only one panel is used to place the advertisement image, while the electrical wiring and equipment are mounted on the rear panel. Such light boxes are placed on the facades and walls. In double-sided models, electrical equipment is mounted inside the structure on special rails. Such boxes are mounted on the facades with the help of brackets and represent separate advertising racks.
Exterior and interior (ultrathin)
Light boxes can be used not only for outdoor advertising, but also for interior decoration. As a rule, manufacturers approach interior boxes more carefully, as minor flaws in the room are more noticeable than on the street. The so-called ultrathin interior ducts 60–90 mm thick are in demand. Ultra-slim models have a depth of only 26 mm and are controlled using the remote. Such light boxes are used to design wall menus, shop windows, shopping and exhibition halls.
Floor mounted and suspended
Interior light boxes, depending on the method of mounting are floor and suspension. They can be used for a variety of purposes, depending on the needs of the business, but, as a rule, they are used as information boards and signs in shopping centers, public places, train stations, and exhibition centers. It is also possible to manufacture small desktop models. The newest direction in this area are video light boxes, which include a full-fledged Digital Signage system with remote content management.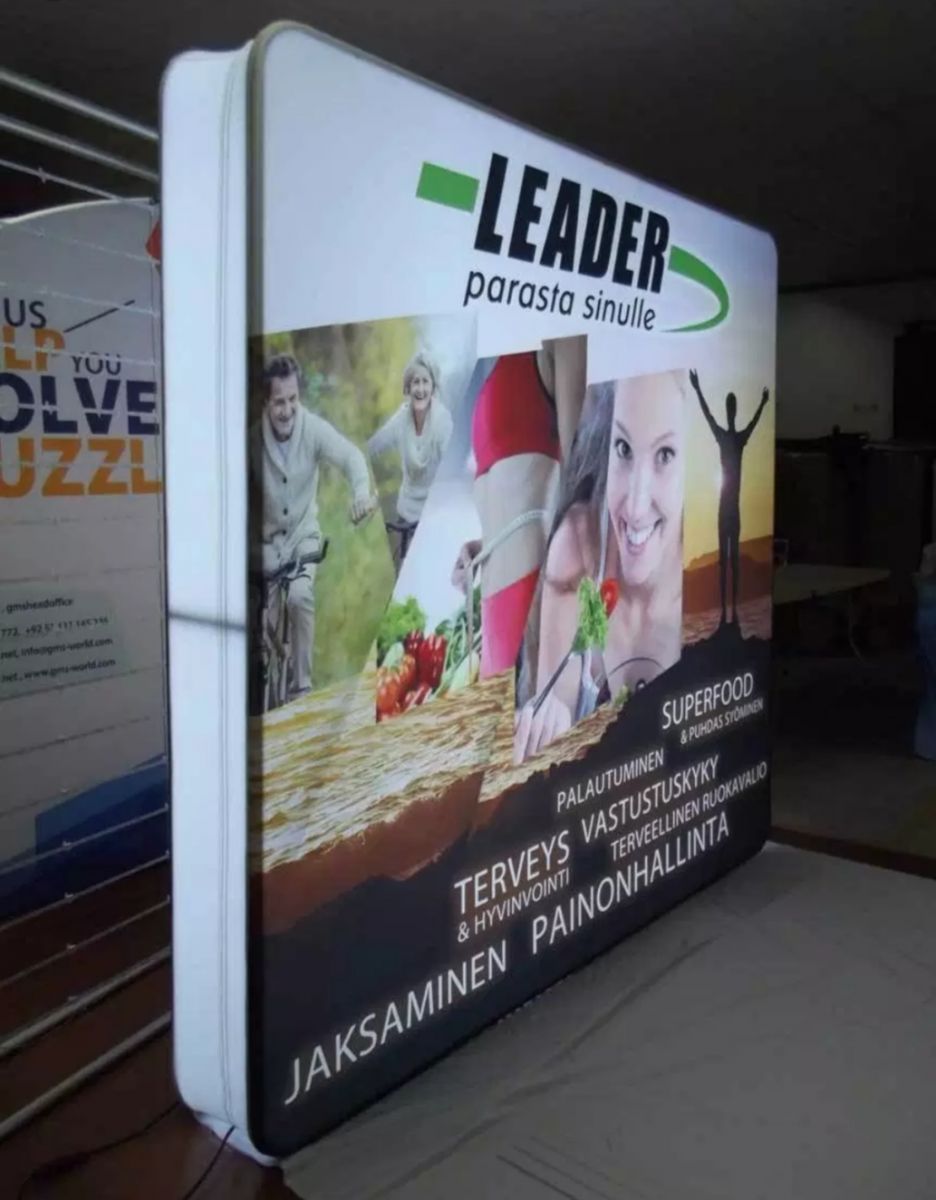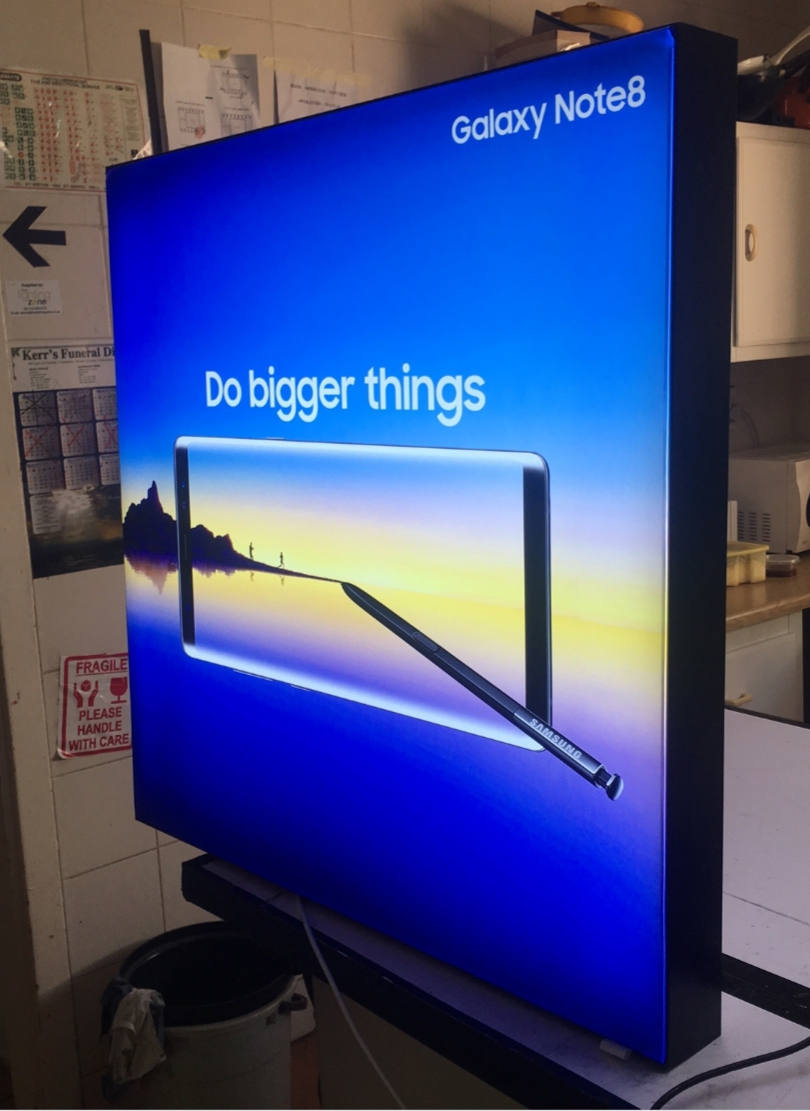 The shaped (molded)
Light boxes can be of any non-standard shape at the request of the customer - round, triangular, oval, etc. Such options are especially in demand among well-known companies that want to realize their logo using a light box. Production is carried out by vacuum molding. Molded boxes are one-piece, monolithic design without gaps and gaps. With this technology it is possible to cast any advertising product or object.
Static and rotating
As already mentioned, today it is possible to manufacture dynamic, rotating, light boxes. Despite the attractiveness of this design, it is not in great demand because of its high cost. However, manufacturers claim that the price is justified: the efficiency of a light box with a spin is 10 times higher, and the cost of such a design exceeds the standard price only 4-5 times. As a rule, this design is floor-standing and has a rectangular or ellipsoid shape.
Light boxes materials
Frameworks for light boxes are made of PVC plastic, aluminum and metal. Plastic boxes are the cheapest, but they have limitations in size - no more than 2 x 4 m. The aluminum profile looks solid and can be painted in any color. The side panels are also made of aluminum. In addition, there are aluminum profiles with a stretch system for banner fabric, which allows you to make a seamless box. The aluminum construction is lightweight, even with large sizes. Finally, the most expensive version of the box - made of metal. In this embodiment, as a rule, the side surfaces are sheathed with galvanized steel, and the metal frame is made of shaped pipe. In order to avoid corrosion, the metal is coated with an anti-corrosion paint. This profile is more robust and is used for massive structures.
Note
Galvanized steel is more often used for light boxes with translucent banner fabric.
When ordering a light box, the choice of the front, that is, advertising surface is particularly important. The range of materials is quite wide. The most common option is light-diffusing (acrylic) Plexiglas of milky light with a thickness of 1-6 mm. The standard size of such glass is 2 x 3 m or 4 x 6 m. For large-sized light boxes, cellular polycarbonate is suitable, the standard size of which is 12 x 2 m. Nevertheless, the most versatile material is translucent banner fabric, with which you can create huge light boxes. sizes. The fabric has light-scattering properties and increased characteristics of light transmission in daylight. The image on the fabric is applied by the method of full-color inkjet printing and screen printing. The advantage of banner fabric is that it can be stretched to the surface of any area without changing the density of the material.
Light boxes made of composite materials, such as dibond and alyukobond, are the most expensive, but at the same time the most spectacular. Dibond is made of aluminum and is a mirror panel. The material can be given any shape due to its flexibility. Its surface is smooth, and therefore the seal and photo images fit well on it, it is easy to laminate. Dibond has high strength, weather resistance, lightness and refractory qualities. Alucobond is a malleable, lightweight and durable material that is widely used in cladding facades. His palette includes 19 standard colors.
With the help of composite materials you can make light boxes of special designs:
• Flat letter signs: the outline of the letters is cut in a dibond, and a sheet of plexiglass is attached on the inside.
• Letters with an inlay effect: Plexiglas is cut along the contour of letters from a dibond.
• Signs with convex letters: the letters are made of Plexiglas, milled and fastened so that their surface protrudes from the layer of dibond.
• Bulk letters are made in the same way, but mounted on top of a sheet of dibond.
• Bulk letters with the effect of contraction: in this case, the letters are attached at some distance from the sheet of the dibond. Contour lighting creates an internal glow of letters, as their front part is not transparent.
Light boxes made of composite materials have an expensive, aesthetic and solid look, they are used for decoration of large institutions, such as banks, shopping and business centers, etc.
Finally, in the manufacture of front panels by vacuum molding, polystyrene is used. It is heated over the entire surface to a plastic state, and then with the help of a vacuum, it is stretched onto the mold. The result is a solid, voluminous surface on which any images can be applied.
Note
The image is usually applied to a vinyl film, after which it is cut with a plotter to the desired size and shape. Next, the picture is transferred to the surface of the light box according to the principle of application.
Back light options
Creating lighting in a light box is one of the most important components of production and installation. Depending on the location, the back light can be frontal (behind the front panel) and end (on the side panels). Fluorescent lamps, neon (or gas lamps), light-emitting diodes are used as light sources for light boxes.
Fluorescent lamps are more common, as they are inexpensive and easy to install. However, they have two important drawbacks - they have a short service life (maximum a year) and consume a lot of electricity. Neon, on the contrary, has low power consumption, it lasts longer, but its cost is slightly higher. The advantages of neon light sources are that they allow you to evenly illuminate structures of any shape and give the desired shade to the glow. Advanced solutions today are LEDs. They consume very little energy, serve for a long time - up to 50,000 hours, but they are expensive. In addition, over time, the brightness of the LEDs may decrease.
Note
LEDs are the most energy efficient light source today. Due to low electricity consumption, the cost of their installation quickly pays off during operation.
Stages of production of light boxes
Different manufacturers have their own proven technology for the production of light boxes. For example, the simplest products are something like a designer for assembly, and therefore their production is extremely simple. However, to make a custom light box, cutting accuracy and assembly using modern equipment is necessary. For example, for large boxes with banner cloth, the metal frame is first welded, then the side panels are assembled and the light is mounted, an image is applied to the banner on a wide-format printer, and then the canvas is tensioned using a special system.
In general, the manufacture of lightboxes is a rather technological and troublesome production, in which every nuance matters. It is important to achieve the necessary brightness, and the light box itself must be reliable and durable. The effective operation of the light boxes is influenced by the films used, the electrics, the type of front surface, the rigidity of the material and other details. Therefore, when ordering a light box, it is better to contact trusted manufacturers.
Light box prices
The cost of light boxes depends primarily on the materials used, the design and type of lighting.
In addition, the value of the order quantity and the size of the box.
Custom designs are more expensive than rectangular ones.
For example, a light box made using galvanized steel, pipe profiles, a banner and LEDs installed on the roof of a building will cost about .......... / sq.m. Signs with the use of volumetric letters from plexiglass, aluminum profiles and LEDs will cost from .......... for 1 cm height. Light box with a surface of banner fabric - from ............/ sq.m, from polycarbonate - ........... / sq.m, from acrylic glass - .......... / sq.m, from a composite - about ......... / sq.m.
Making light boxes in Dubai
The production of light boxes is a rich niche in the outdoor advertising market. There are small companies that sell a narrow range of products, high-capacity and large-scale production facilities, and intermediary advertising agencies that organize the production of external structures. Due to the wide possibilities, medium and large manufacturing companies are a preferable option if your business needs high-quality, modern and technological light boxes in a short time. A representative of this segment is, for example, Our company - has its own production capacity of about 1,500 m2, an assembly and printing industry, and a fleet of vehicles.
Our company is engaged in the manufacture of all types of outdoor advertising, including light boxes, using all modern technologies in this field. Products include signs, three-dimensional letters, printing (on vinyl fabrics (banners), paper, canvas, etc.), branding (pasting with various films with the image of vehicles, buildings, railway cars, trolley buses, etc.). Own production and equipment make it possible to manufacture the most complex structures in terms of 1–2 days, and also provide a guarantee of 1 to 3 years on most products. Among the regular customers of Our company such well-known companies and organizations as Dixie, Lacoste, Komus, the Russian Ice Hockey Federation, the Higher School of Economics, radio stations, ets....Our company differs from other manufacturers by rigorous fulfillment of warranty obligations, the quality of the materials used and the operational time frame for the production of light boxes.