What is an art print on the ceiling?
It is a color image applied to a film of pvc. This film is a completely safe coating for the ceiling, which can be used in urban apartments, as well as coffee shops, all kinds of studios and workshops, hotels and cozy hostels. The idea of ​​photo printing on the ceiling will certainly be met by each of the guests very warmly and cordially, and the time of drawing the drawing will allow you not to suspend your work.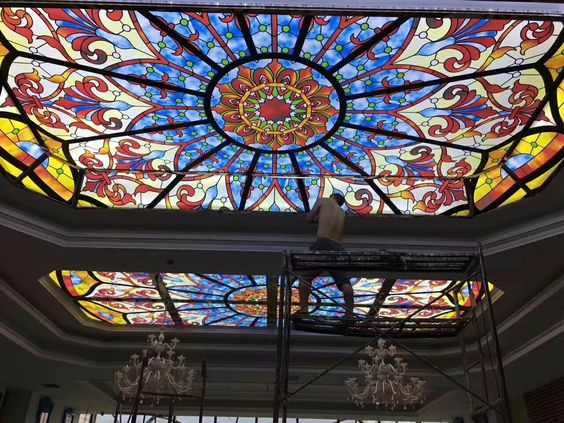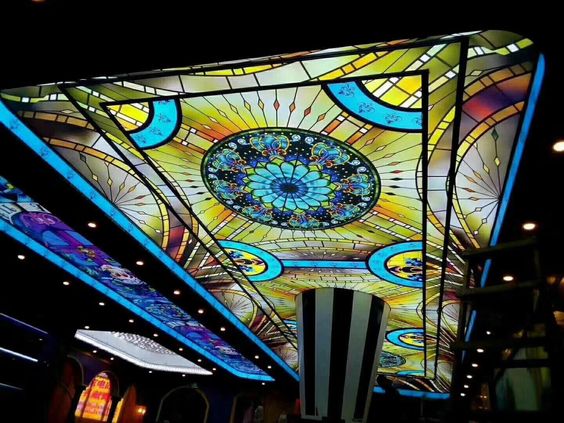 What ceilings can be printed?
Ceilings made of PVC film, allow you to place absolutely any pattern on your surface. It can be both matte and glossy, so there are no restrictions.
Experts of our company have taken care of the quality of printing and wide possibilities of choosing a picture, its scaling and color rendering, which offer you to install stretch art ceilings. If your apartment already has ceilings, do not despair - you can order stretch ceilings with an art seal, which will be carried out by specialists as quickly and efficiently as possible.
Features of photo printing on Stretch Ceiling
Photo printing on stretch ceilings is not just a drawing on a film. With the help of modern methods of applying paint penetrates deep into the canvas, creating the illusion that a famous painter worked on your ceiling. In this case, the applied image is not washed away and does not burn out, for many years remaining in its original form.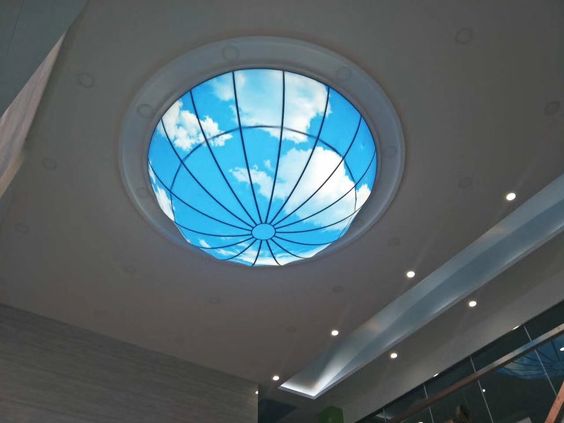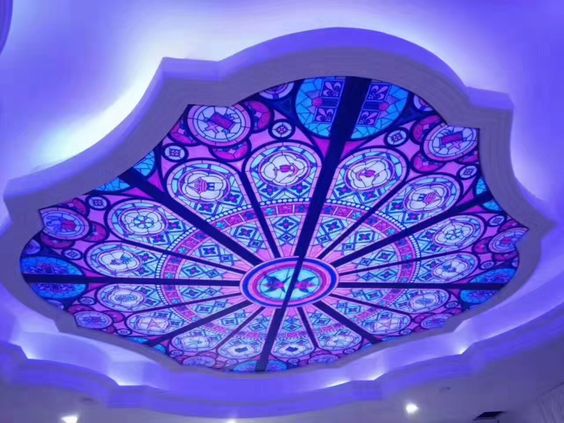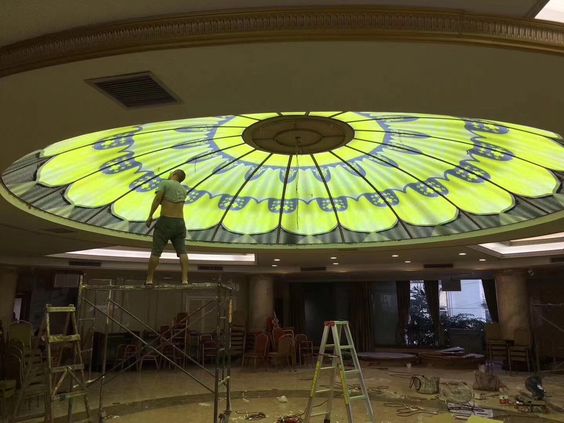 Types of images for stretch ceiling
Depending on your tastes and fantasies, an abstract drawing or ornament, an image of clouds or a starry sky, butterflies or flowers, and much more can be applied to the ceiling. You can offer your option or choose a photo from our catalog. Artistic images are equally appropriate to look in all types of rooms and give completeness to the design of the room.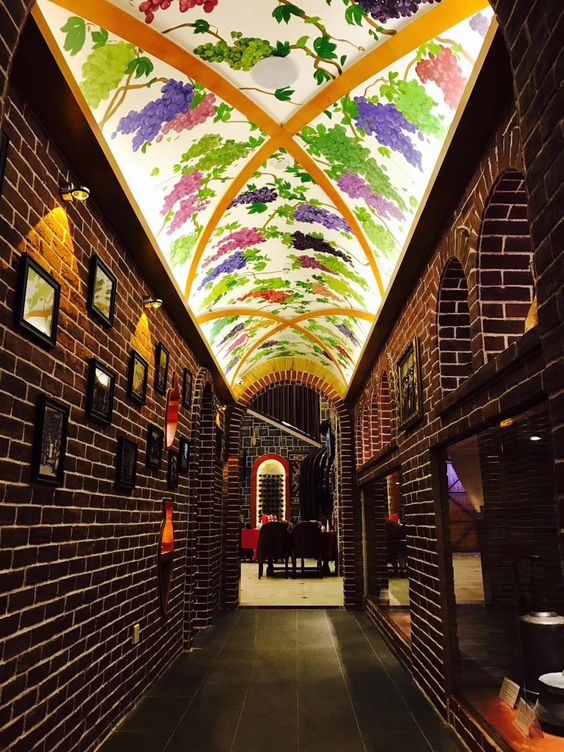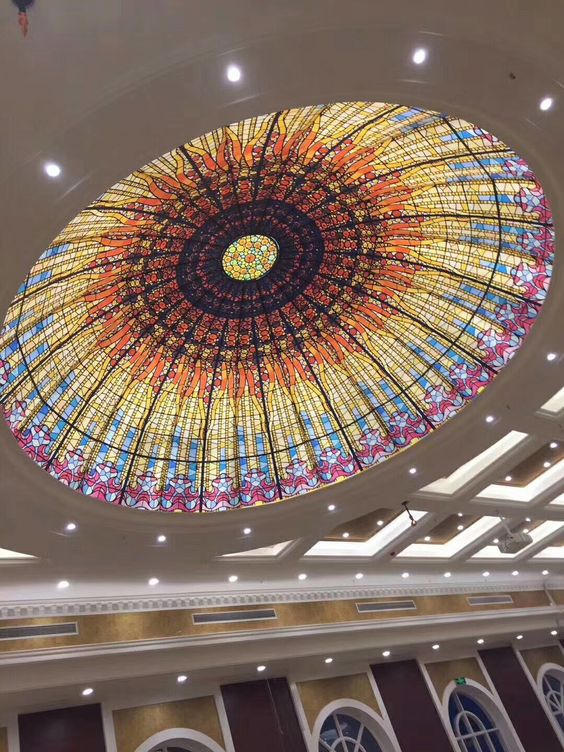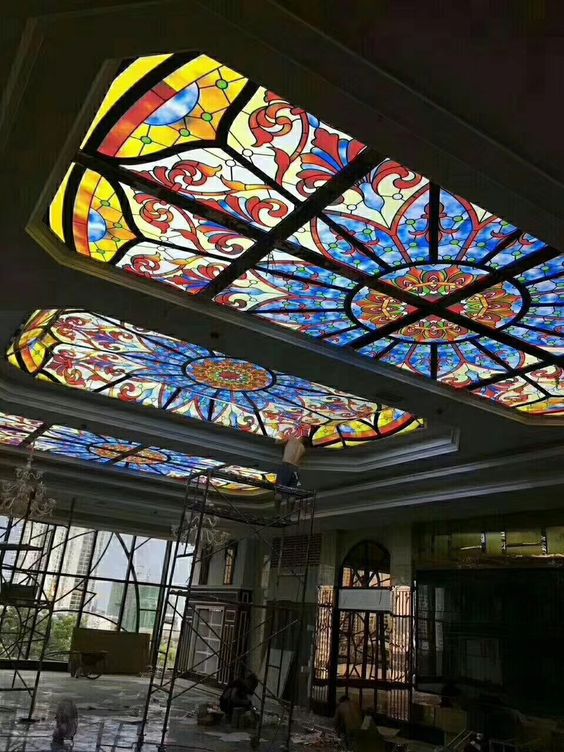 Specification of images on different ceiling textures
Depending on what type of stretch ceiling was chosen, the image will be perceived in different ways:
Matte stretch ceilings allow you to preserve the clarity of the picture and the detailing of the elements;
Satin canvases perfectly convey the color and realism of the image;
Gloss gives the image brightness and depth.
Using different texture of stretch ceilings for photo printing, you can significantly change the perception of the entire interior. While no matter what type of film you are using, your ceiling will look amazing.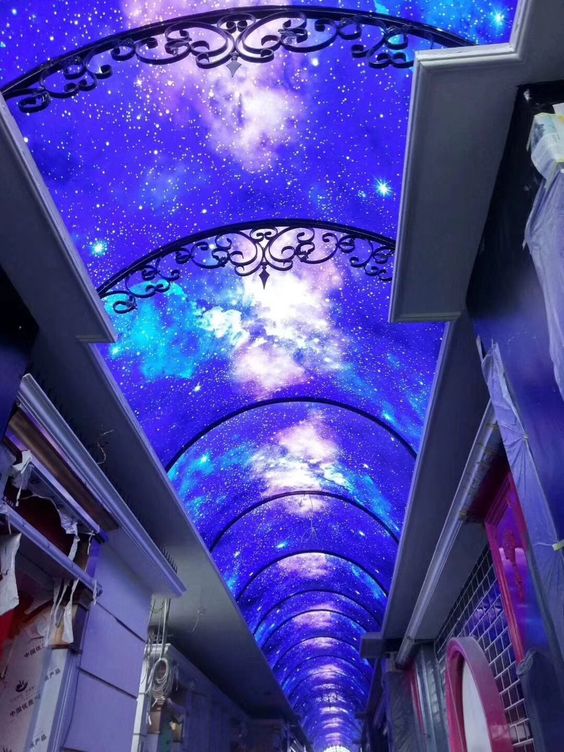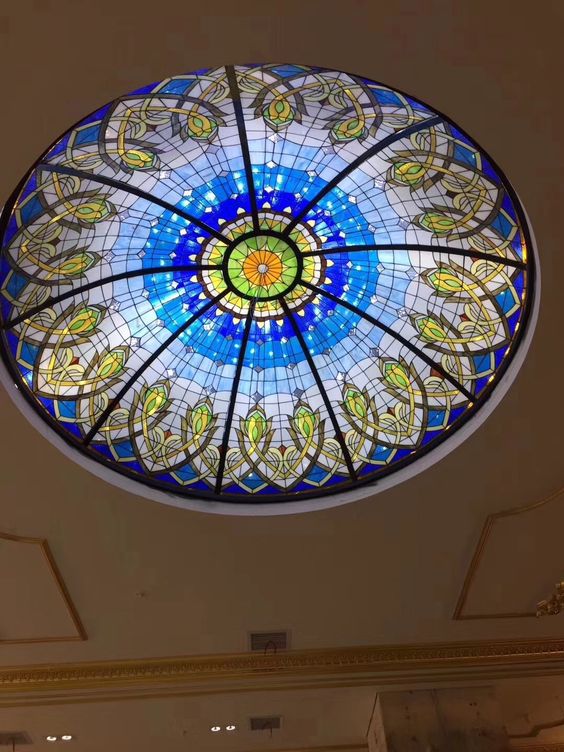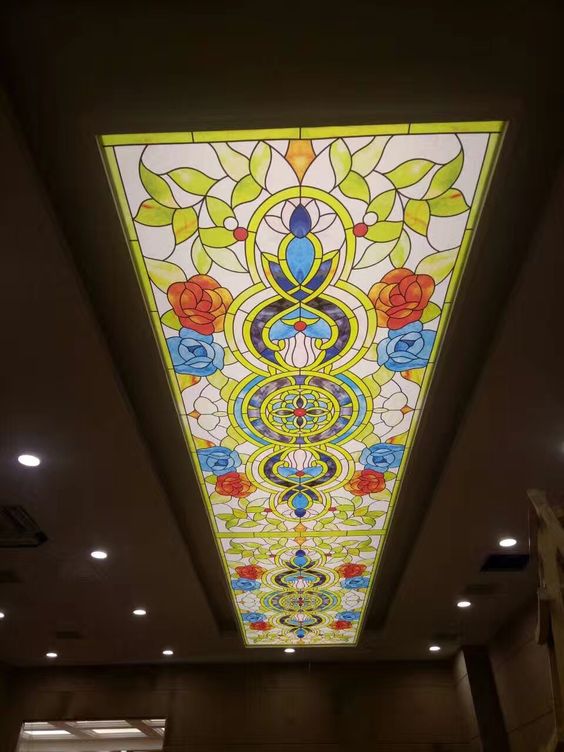 Why choose stretch ceiling with photo printing?
CREATING A UNIQUE ATMOSPHERE
Thanks to the possibility of printing on the ceiling of any kind of images, it is possible to create exclusive interiors
Drawings on the stretch ceiling with time do not lose their brightness and do not change the original appearance
In our catalogue there is a huge selection of images - from ornaments to reproductions of paintings
The paints, with which the image is applied to the canvas, are environmentally friendly and absolutely safe
Photo printing technology allows you to apply images to all types of textures - matte, satin or glossy
Using in the interiors stretch ceilings with photo printing, you can create many unique designs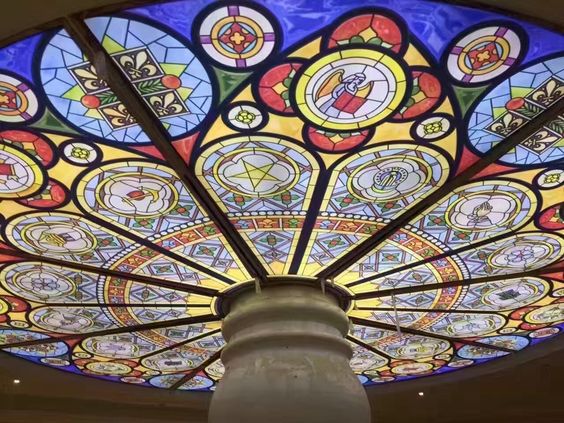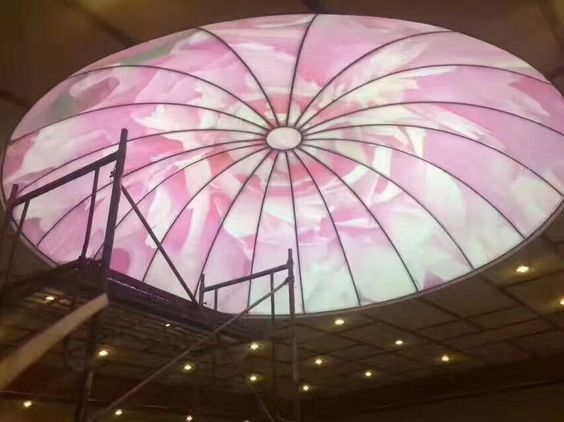 Methods of printing on Stretch Ceiling
From the method of printing, photo depends not only the appearance, but also the convenience of installation, as well as the performance characteristics of the finished product. Regardless of the technology you select for your stretch ceiling, you can count on the quality and safety of Fran Studio products.
Eco solvent
Eco solvent - this is traditional photo printing Eco-lvent ink with high resolution - up to 1440 dpi. Eco-solvent ink has a low content of volatile organic compounds and is characterized by particularly fine pigment particles. Eco solvent is characterized by a faint odour or lack of it. Working area of ​​printing from 200 to 320 cm.
Smart print
Smart print - this photo printing Eco-solvent ink with an additional layer to protect against sticking. Stretch ceiling with photoprint Smart print can be transported without stretch film. Installation of such a ceiling is greatly facilitated, the web does not stick together, there are no traces from the stretch film. Printable area 320 cm.
UV print
UV print is an ultraviolet printing (UV curable ink). Ultraviolet photographic printing has a number of advantages. The risk of lubrication of the print, sticking together is excluded. Ecological compatibility is ensured by the absence of a volatile component. Printable area 500 cm.
UV + white
UV + white is a printing of ultraviolet paints with the addition of a white substrate. Allows to put images on invoices of any color with preservation of a color rendition. Printable area 500 cm.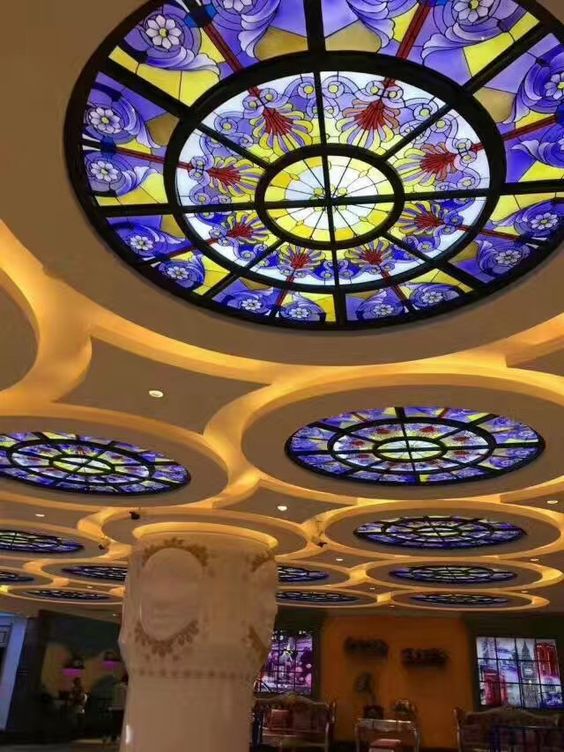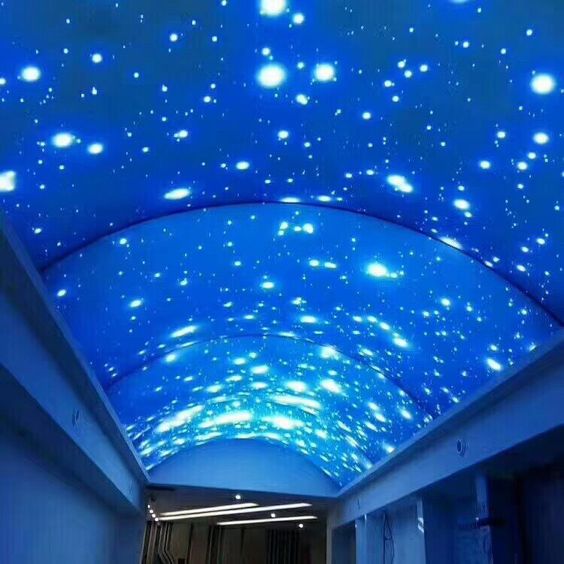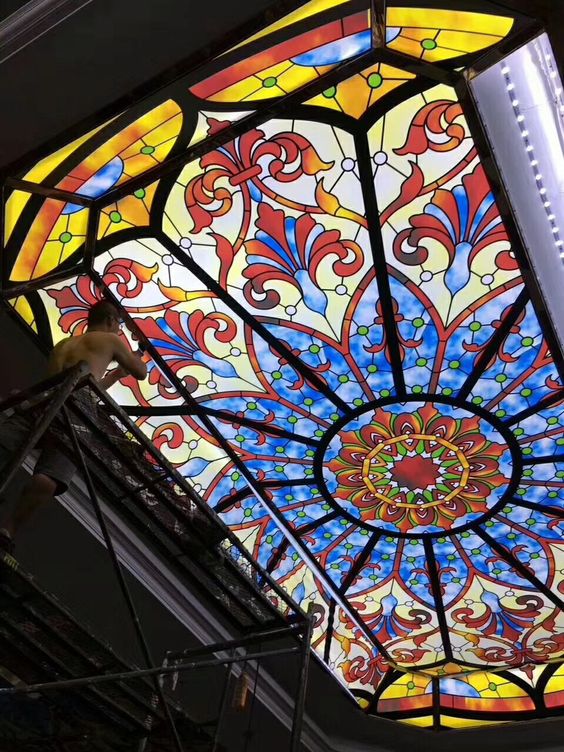 ​
Recommendations for the use of art print on ceiling in interior
Art print on stretch ceilings arose relatively recently, opening up new opportunities for experiments, creating unique interiors and expanding the boundaries of accessibility. Art ceiling painting, an individual sketch, the artist's work are worth a lot for customers, but thanks to photo printing in less time and for less money you can create your own unique stretch ceiling. Ready images You can choose photo prints in our catalogue, also you can offer your pictures, favourite photos or create your own sketch with the help of New Life designer.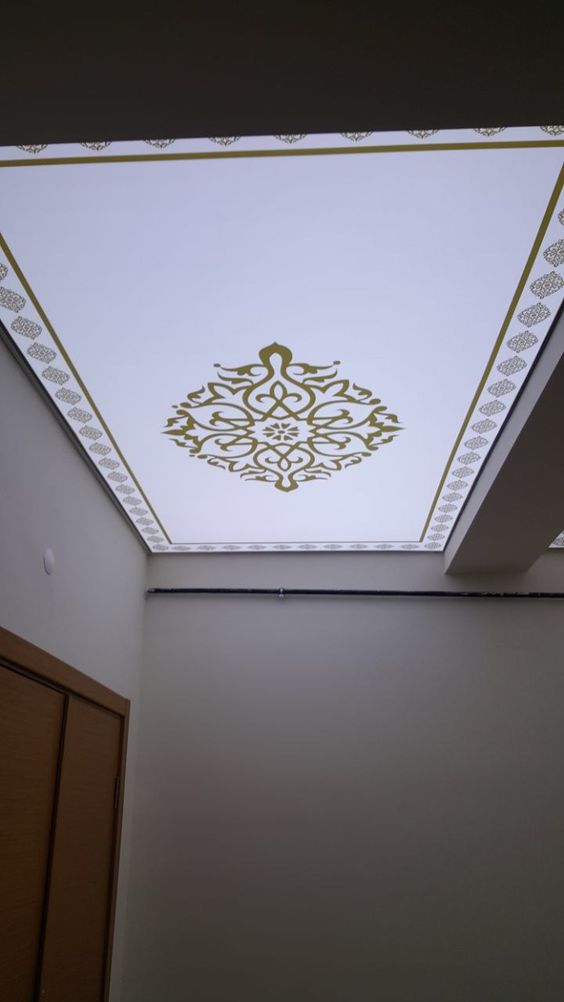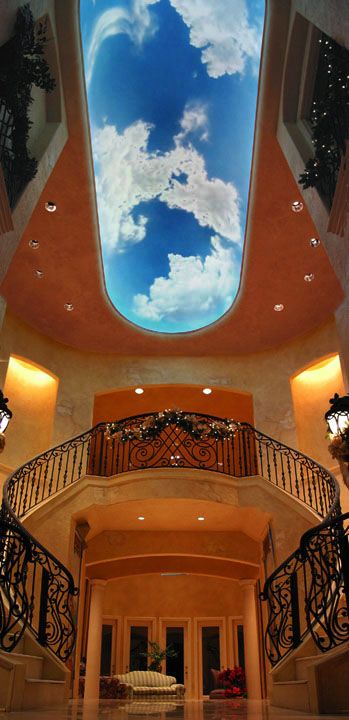 Art print on the ceilings can be performed on any of the existing textures of stretch ceilings, but here there are special features. If you want to get the effect juicy, bright: a deep and mesmerizing space, a night city with a myriad of calling lights, a sea bowels or an ocean with bizarre inhabitants, a snowboarder floating in a jump over snowy peaks, sun-splashing waves - choose lacquer textures. If you prefer pastel colors, more restrained, muted colors that will best convey the mood created by the great masters of painting, decorate the ceiling with stylish ornaments, create a gentle atmosphere in the nursery for the baby - you can print on a matte, satin or fabric texture. Also photo printing will decorate the ceiling "Starry Sky", for this it is customary to use cosmic and heavenly motifs, but nothing prevents to realize your own project of photographs on the ceilings. Printing on stretch ceilings is a space for your bold design decisions and numerous options for decorating your favourite apartment.
ECO-SOL MAX eco-solvent inks are used for photo printing, which have a deep saturated color and provide excellent print quality. Paint (eco-solvent ink) on the surface of the stretch ceiling is applied by a professional wide-format plotter, designed for interior graphics production.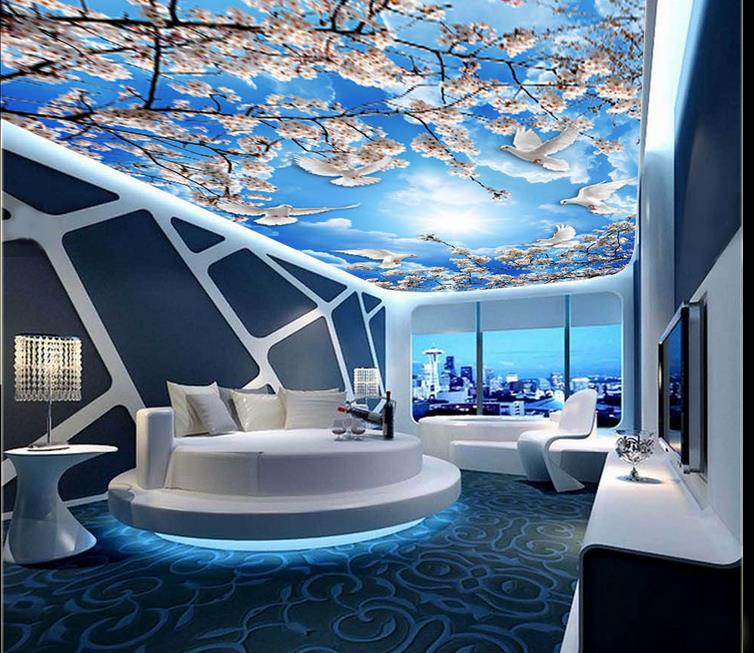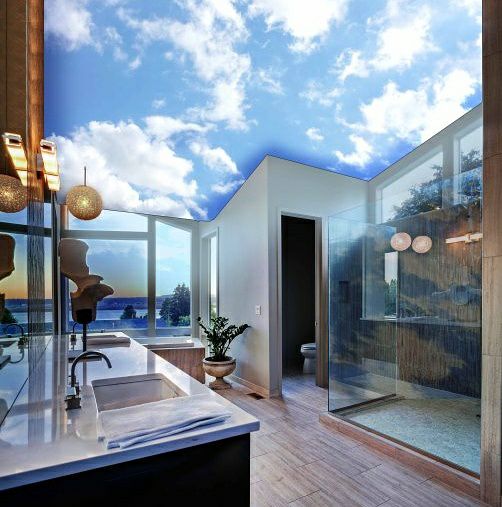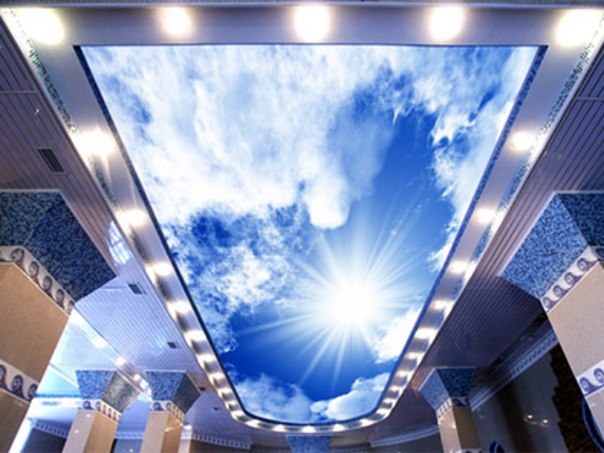 In order to order an Art print on a stretch ceiling, you need:
Select favourite images from the ART-Catalogue, offered on our website.
Call our company in order to call a technical specialist to measure your ceiling and technical advice on the installation of your stretch ceiling with an Art print.
After visiting and measuring your ceiling, the technical specialist passes all the necessary information to the design department, after which all the necessary work in coordination with you Art print on your ceiling is taken by a certain designer of the company.
Terms of installation of a stretch ceiling with an Art print (without taking into account the terms of agreement of test samples of the image you selected) will be 5-10 days from the moment of receiving the order until installation.
The image size on the stretched ceiling is adjusted individually according to the true dimensions of the ceiling.
It should be understood that an average quality image with an increase will not give a proper good result, so the company's designer will make a real-time layout to see how the image on the ceiling will look.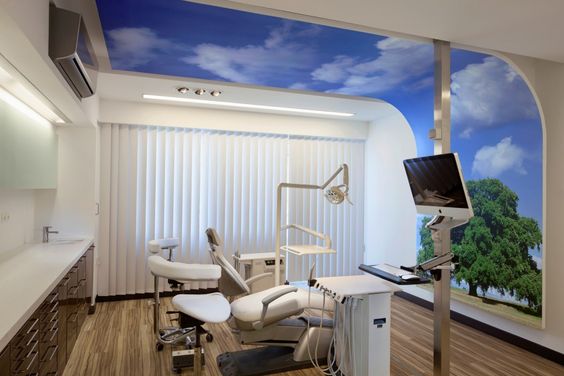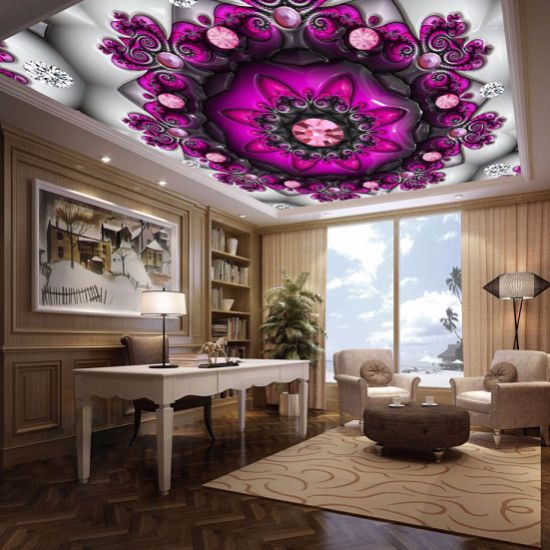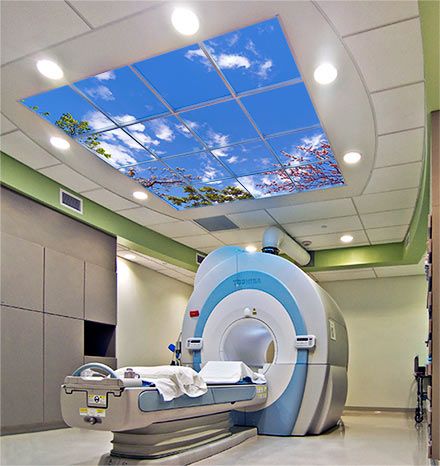 Technical features of art print on Stretch Ceiling
Stretch ceilings with Art print, in fact, do not differ from ordinary, except for the original exclusive design. They retain all the advantages of stretch ceilings: hide deformations, visually level the ceiling, prevent leaks, and so on.
Like other types of stretch ceilings, installation of our Artistic Ceilings provides an ideal ceiling for any room. Installation of our artistic ceiling is clean and fast.
Sometimes customers have questions about the ink used in printing. In fact, ink, with which no image is applied, is absolutely ecological and safe, does not smell, does not evaporate with harmful consequences for health. Also, ink is characterized by water resistance, which guarantees complete preservation of the applied image in an unchanged form. They are resistant to mechanical influences, do not crumble, do not change under the influence of solar or electric color. There is no reason to be afraid that over time the image will lose its former quality, fade, spread or deform in any other way.
Design
Images printed on our stretch ceilings will help create a truly unique atmosphere.
Such image themes as landscape, ocean can be used to create a more relaxed atmosphere in the room. And images of urban landscapes and logos can be used to create various effects.
On artistic ceiling, images of almost any type can be printed - from the most traditional to the most avant-garde.
Usage
Our Artistic ceilings offer a wide range of applications: children's, bedrooms, canteens, restaurants, cinemas, corporate offices, exhibitions, all these types of rooms and any other can be visually reinforced by our artistic ceilings, a designer can betray any theme of decoration.
NOTE !
Despite the fact that you can print on any film, it's better to use matte or satin. On them, the image quality is the clearest. Lacquer cloths will give highlights and reflect objects, because of this the beauty of the picture will fade, because the eyes will be distracted by unnecessary details. Semitransparent canvases are also ideal for artdecor, but on condition that they are used with internal illumination.
The image is very bright and accurate, the print resolution is up to 1440 dpi, so the original picture should have a proportionally the same size as the ceiling: the resolution is from 72 dpi, the CMYK color palette and the tiff format.
ADVICE OF DESIGNERS
Usually any ceiling, even a stretch, does not attract much attention to itself, it unobtrusively fits into the overall design, and the main elements are pictures, furniture, ikebans or other parts of the interior.
But artistic stretch ceilings are the center of the room. They instantly attract and for a long time delay the look, prompting the viewer, from time to time again to draw attention to themselves.
Therefore, designers of our company recommend:
Brightly light the ceiling with photo printing. The walls at the same time make a few tones darker, then the room visually will be higher.
Avoid variegations in the design of curtains, furniture, floors and walls, the ceiling picture should be the brightest spot in the room.
The ceiling and the rest of the interior should be in the same style. If there is an old map on the ceiling, then the chandelier - the steering wheel and the ropes in the decor of the curtain - is an ideal addition.